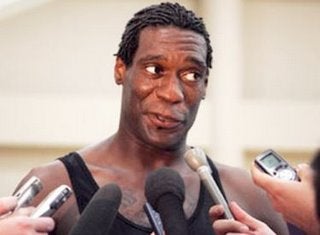 Well, this appears to be it for Shawn Kemp, the former NBA All-Star whose comeback has ended before it even began. Kemp, who recently signed a one-year contract to play for the Italian club Montegranaro Premiata, was cut by the team when he left training camp last week and didn't return. Kemp spent nine days in Italy training with the club and playing in three preseason games. He then returned to the United States to check on his home in Houston after Hurricane Ike.
"I am very sorry for my inability to return to the club in a timely manner due to personal issues," Kemp wrote in a letter posted on the team's Web site Saturday. "I'm very sorry that these unforeseen circumstances have resulted in the club's understandable decision." The 38-year-old Kemp had not played since 2003 and was arrested in 2005 and 2006, both times in drug-related matters.
Kemp's college career was similarly aborted when he left the University of Kentucky after being accused to trying to pawn some jewelery stolen from a teammate. So now we have matching bookends. The Reign Man's reign has officially ended.
Seam Kemp's Return To Pro Basketball Cut Short
[SI]