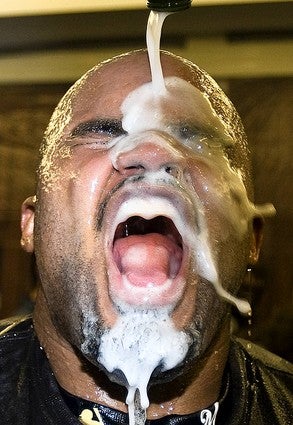 Perhaps the most joyful of playoff entrants this year are the Milwaukee Brewers, who just a couple weeks ago were in the midst of an epic free-fall out of wild card contention. Ned Yost was
shown the door,
Dale Sveum moved over to the manager's stoop (and didn't wave anyone home from the dugout), their bats woke up, and C.C. Sabathia continued his difference-making pitching performances that appear well worth the price of Matt LaPorta's future excellence. Sabathia pitched
another ridiculous outing
on short rest shutting down the Cubs 3-1 in front of a sold out, raucous Miller Park crowd. At Brewers' blog "
Brew Crew Ball
", the ecstasy of a playoff berth was summed up this way: "Pee your pants! We made the playoffs!" Congratulations, Milwaukee. You have two days
to sober up
.
Keg Party! Sabathia finishes what he starts
[JS Online]