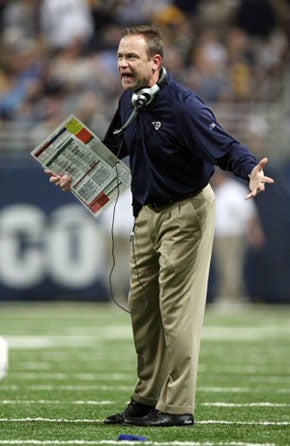 Not long before she died, Georgia Frontiere made it known that she wanted Scott Linehan to have a third season as head coach of the Rams. So much for final wishes. Linehan was given the heave-ho at 2 a.m. today by Frontiere's sons after discussing the alternative of — get this — keeping him and bringing in Dick Vermeil as a consultant. That would have been a lot of fun. Anyway, defensive coordinator Jim Haslett now gets the reins on an interim basis.
The decision was made at 2 a.m. today after a lengthy meeting involving owners Chip Rosenbloom and Lucia Rodriguez, team president John Shaw, general manager Jay Zygmunt and others. The move to oust Linehan appears to reflect the sentiment of most fans. For example, in an online poll conducted Sunday night after a 31-14 loss to Buffalo, more than 4,400 STLtoday.com readers responded. Ninety-two percent of them said Linehan should be fired.
What's amusing to me is that Haslett, the former Saints head coach, is now in charge; if anyone is more culpable for the Rams' stinky 0-4 start, it's the red-headed one. It's his defense, after all, which gave up 147 points in four games. Fun fact: Haslett played most of his NFL career for the Buffalo Bills, and it was the Bills who beat St, Louis 31-14 on Sunday, giving Haslett the job.
Rams Fire Linehand, Name Haslett Interim Coach
[NBCSports]
Linehan Out, Haslett In
[St. Louis Post Dispatch]