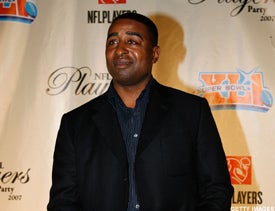 Before we even get into it, please be aware, Chris Carter, that Will Leitch had nothing to do with this post . He's not even aware of it, so there's no need to "take him out," as you're fond of saying. The offending party is Charles Robinson of Yahoo Sports (I'll find you his address if you want it). This isn't going to make you happy, just so you know. But hey, it's your own fault. Carter — who's an ESPN analyst now — seems to be suffering from amnesia; either that, or he just doesn't listen to himself. On ESPN's Sunday NFL Countdown, Carter had a couple of interesting takes on two Matt Millen draft choices. Unfortunately he completely contradicts himself with both. On the air while waiting for game time on Sunday, Carter criticized Millen — who was fired last week — for drafting receiver disappointments like Charles Rodgers and Mike Williams. From Yahoo Sports :
Carter helped both Williams and Rogers train before their respective drafts. And this is what he said about that on Sunday: "Matt Millen – do a little undercover work. (Mike) Williams and Charlie Rogers both worked out with me before the draft. I could have told him, don't draft neither one of them. (He) never asked me." That's interesting because here is what you said about both players just before they were drafted. Carter's comments about Rogers, to the Fort Lauderdale Sun-Sentinel just before the 2003 draft: "He's very similar – and I don't like to make a lot of comparisons – to Randy (Moss) in a sense, a big basketball player playing wide receiver. He's the only receiver that's come out since Randy that you can make an honest comparison to. He has a yearning to learn." So much for consistency.
I'm sure this is just the crack analysis ESPN was looking for when they fired Sean Salisbury.
Winners And Losers; Favre Sends A Message
[Yahoo Sports]