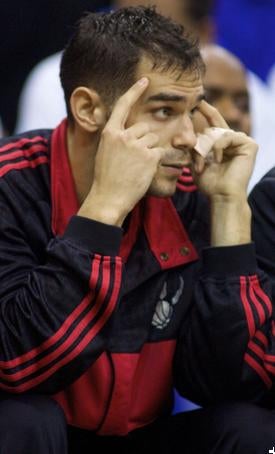 Remember the tempest over the Spanish basketball team photo at the Beijing Olympics; the one where the players all pulled back back the skin at the corner of their eyes to make them look slanted? Jose Calderon is overcome with remorse over that. He's apologizing in the press, but not only that; He's personally replying to everyone who emailed him about it and apologizing to them as well. Holy Hochuli!
"It was a mistake, a bad mistake," he adds of the picture, which showed the Spanish national team pulling back the corners of their eyes. "We weren't meaning to do anything hurtful, I take that like a lesson. ... I wanted to tell the people what I am, I've never had that problem before in my life and it will never happen again." Calderon says he sent emails back to about 100 fans who wrote to him to say how hurt they were by the picture. "I wrote to the people who really cared about it, the people who emailed me and people who really thought I was saying something bad. It was a bad mistake, I wanted to tell them." "I felt so bad about it, I needed to think about it for a long time," Calderon says. "I didn't want to answer every time they were saying something, I just waited for the best moment."
Of course this apology has nothing to do with pressure from the Spanish government, which wants the games in 2016.
Jose Calderon Says 'It Was A Mistake, A Bad Mistake'
[MyHogtown]