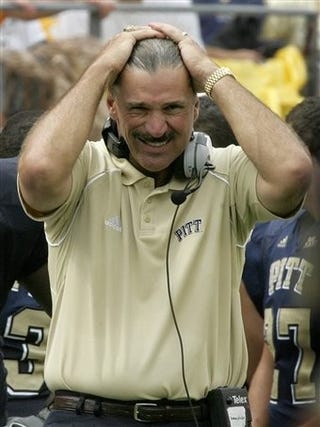 Thursday night college football arrives with a televised double-header. ESPN brings us Pittsburgh at South Florida and something called the Versus Network brings us Oregon State at Utah. Like me you have no idea if you have actually have Versus and if demanded on pain of death to give ten guesses as to what the channel number is, I'd be dead. So would you. Leaving one to wonder, as always, who negotiates the Pac-10's television contract? Anyway, excluding the baseball playoffs (hurry up and end), these games are better than anything on Thursday night television excluding
The Office
. And, let's be clear, if Michael Scott and Stanley could call one of these games in character the awkward awesomeness of this pairing would beat anything in college football this season. Except for when Charlie Weis got bowled over against Michigan. Nothing beats that. On to the preview.
Pittsburgh at South Florida (-13.5)
- Friday night's game on September 12 between South Florida and Kansas has already been forgotten. But if Kansas wins that game they're inside the top 10 with four other Big 12 teams. Instead South Florida is #10 in the AP and will be favored in every game remaining on their schedule with the possible exception of an away game in Morgantown/Deadwood on December 6. But how good is South Florida? They're 5-0 with one overtime win over a mediocre team (Central Florida), one last second field goal win over a good team (Kansas) and a near disaster against Florida Atlantic (17-8)? Last season things were also going smoothly for South Florida, they rolled to #2 in the country before losing three straight in conference games and plummeting out of the polls. This season their rise hasn't been meteoric but their position is similar. Win their final 7 games and it's hard to believe they won't be in the BCS Title Game at 12-0. Even still, you're reading this and thinking, there's no way South Florida runs the table. They're not a top 5 caliber team. And I'm writing this and thinking the same thing. Even though I have nothing to base this on. Meanwhile Pittsburgh has won three in a row since a home-opening loss to mighty Bowling Green. Dave Wannstedt, who has been on the verge of perpetually turning the corner with Pittsburgh football for the past three seasons, needs to prove his team has actually improved. So far Wanndstedt has gone 5-6, 6-6, and 5-7. Is there any coach in America that's lived on a perpetual hot seat longer than Wannstedt? Since 2002 he's been on the verge of being fired for some offense or another.
Oregon State at Utah (-14)-
Demonstrating the respect that Oregon State garnered by upsetting USC as 25 point underdogs last week, Utah opened as 12 point favorites. The line immediately moved to 14. Last week everyone expected for USC's turn on Thursday night football to be an audition for the nation's accolades. This week, the same holds true for Utah. Especially since the Mountain West is 5-1 against the Pac-10 this year. Utah is averaging 38 points a game and is 5-0 including their opening game win at Michigan. If they can get past Oregon State, Utah looks to be in solid shape for a match-up of undefeated teams in their November 22nd game at BYU. Such a game could be a play-in between top ten teams (you've got to figure that the #15 Utah team would be in the top 25 by then) and could provide the necessary juice to propel whichever Utah team wins that game into the BCS Title Game. Against, you guessed it, South Florida. If that happened, we could end up with a split national champion. Something the BCS was devised to keep from ever happening. So if you're a college football fan who believes that a playoff would be a gift from God (and who doesn't believe this?) then you might want to root for the winner of BYU/Utah to go undefeated and play South Florida for all the marbles. Because the indignation would be at an all-time high and just maybe, maybe, the low ratings and anger would finally mean something would have to change. Meanwhile, Oregon State has already been passed over as the flavor of the week. Just seven days ago they shocked the college football universe by beating the best team in college football history. Now they're going on the road for another Thursday night game and no one is giving them a shot in hell. Which seems odd. Unless you consider how much sex Jacquizz Rodgers has had since he went for 186 yards against USC. The oddsmakers clearly have to be factoring in his leg fatigue. So I guess what I'm saying by way of these previews is, watch both teams if you can because it might be your only chance to develop an opinion about two national title contenders. Seriously. Or don't and watch Sarah Palin, all the while thinking that you're really watching Tina Fey playing Sarah Palin in a skit.