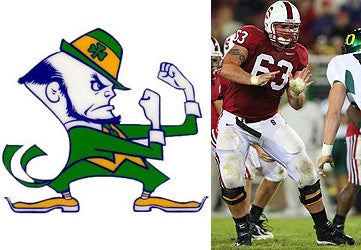 About the only thing that would make Saturday's Stanford-Notre Dame football game actually compelling is if Charlie Weis and the Stanford Tree fought at midfield with rakes and blowtorches. But knowing that would never happen (the Tree is usually soaked with alcohol and cannot be near open flame), Cardinal offensive tackle Chris Marinelli tried his best to inject some life into the proceedings with some trash talk. I know; what's the point? Still, it was pretty funny.
''I hate it, playing up there,'' Marinelli told cardinalreport.com after practice Wednesday, referring to Notre Dame . ''The field, excuse my language, the field sucks. The stadium sucks. I think the area sucks. I grew up with a bunch of Irish and Italian Catholic people back home,'' said the 6-7, 297-pound senior from Braintree, Mass. ''And all the Irish Catholic people, all they talk about is Notre Dame this, Notre Dame that. And they've never even been there, you know. So I hate those guys, I hate that school. We are going out there to mash them up, and that's all there is to it.''
As if the Irish weren't already motivated by a 23-7 loss to Michigan State on Sept. 20. But Marinelli wasn't through.
''We'll be ready,'' Marinelli said when asked how he and his linemates will handle Notre Dame's blitzes. ''I've seen a lot of tape, and it is a good challenge for us. But on the same token, it's going to go bad for them at one point, and we are going to gash the [expletive] out of them, I promise you that. So keep bringing it, keep bringing it. They have one sack all year on 200 blitzes.''
It didn't take long for the big guy to get called onto the carpet. This is Stanford, after all. The athletic department released the Marinelli's apology Thursday afternoon: ''I would like to apologize to the University of Notre Dame and anybody else who I may have offended from the remarks I made in an interview earlier this week. I was caught up in the emotions of the game and should have been more thoughtful in my comments. The remarks were out of character for me and certainly aren't reflective of my teammates or anybody else affiliated with the Stanford program. I look forward to a competitive game on Saturday in one of the great environments in college football.'' Notre Dame students would normally be realy agitated, except that they
have better thungs to worry about
.
Stanford — Stanford? — Player Calls Out Notre Dame
[San Jose Mercury]