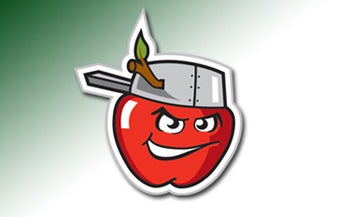 No, this isn't a peyote flashback; the above image is of a real minor league baseball mascot. This as-yet-unnamed, furious-looking apple represents the Fort Wayne TinCaps, the newest member of the Class-A Midwest League. You may know Fort Wayne as home of the Fort Wayne Mad Ants, an Indiana Pacers D-League basketball affiliate. Their mascot, Nightmare Ant , may not take kindly to another anger-addicted sports mascot invading his turf. From Indy Cornrows :
The local minor league baseball team has gone in a new direction and changed their nickname to the Tincaps. Apparently,Johnny Appleseed wasn't just a legend in some childrens books but a real American pioneer who is buried in Fort Wayne. So the Tincaps are an homage to Mr. umm...Appleseed. Check out the mascot for the Tincaps. Never in my life have I seen such a vicious apple. No doubt he has his eyes set on an eventual showdown with Nightmare Ant. I'm smellin' a pay-per-vew picnic at a Johnny Appleseed Park in Fort Wayne. Let's get it on!
The TinCaps
were formerly known as the Fort Wayne Wizards, who changed their name this year. No official reason was given for the switch, but when it was revealed recently that Dumbledore was gay, well, this
is
the Midwest, you know. Although I seem to remember this as the rejected
Funny Face instant drink
character "Restraining Order Apple."
Fort Wayne Tincaps