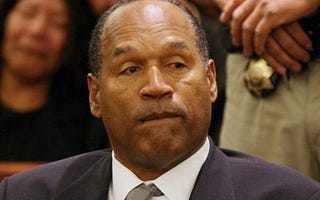 O.J. Simpson was so sure of being found not guilty in his Nevada robbery and kidnap trial that he had planned an acquittal party, said a Las Vegas detective in a radio interview on Saturday. (Funny how my invitation seems to have gotten lost). Also, Simpson liked Vegas so much that he was considering moving there following the trial, according to the Las Vegas Review Journal. Well, mission accomplished, I guess. From
The Review Journal
:
Simpson associate Thomas Riccio, after an in-studio interview Friday with radio talk-show host Anthony Crivello and retired Las Vegas police detective Phil Ramos, invited them to join O.J.'s entourage at an undisclosed location. "That's how certain he was," Crivello said during an interview on Saturday, a day after Simpson and co-defendant Clarence "C.J." Stewart were found guilty on all counts, including armed robbery and kidnapping with a deadly weapon. "He's been predicting a hung jury," said Ramos, who attended the trial and provided expert commentary on Crivello's show, "The Sicilians" on Fox Sports Radio KBAD-AM, 920. "The first thing that popped into my head," Ramos said, "was Sandy Murphy." He was referring to Murphy's overconfidence the day the jury began deliberating in 2000 when she and Rick Tabish were accused of killing casino operator Ted Binion in 1998.
Hope he remembered to cancel the DJ. Simpson
is being held in the Clark County Detention Center
until his Dec. 5 sentencing, after which he is expected to be sent to state prison. An appeal cannot be filed until after sentencing. He is being kept in isolation at the detention center "for how own safety."
Simpson To Remain Isolated In Prison
[Washington Post]
O.J. Simpson To Guests: Acquittal Party Is Off
[The Zone Blitz]
Norm: Simpson Planned Acquittal Party
[Las Vegas Review Journal]