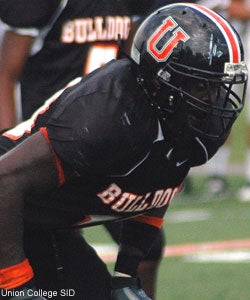 This story takes us way back to the year 2004 B.D. (Before Deadspin), and yes, sports existed even then. Back when a 19-year-old kid from Miami named Willie Williams was the most sought after football recruit in Florida and the Miami Herald figured, "Why not ask him to keep a diary of his on campus recruiting trips to let people see the experience from the inside." Why not, indeed? Maybe because the inside was the last place the universities ever wanted the press or public to look.Everyone already knew that highly-prized recruits were lavished with praise and attention, but no one quite understood the lengths (and dollars) that big time programs would go to, to land a blue-chipper like Williams. Private jets, steak and lobster dinners, personalized jerseys, nights on the town, cookies baked by the coach's wife—none of those things are allowed anymore ... thanks to the diaries that became an internet sensation. But they also brought unwanted attention to Williams. Days after he finally committed to Miami, it was revealed that he was was arrested 11 times as a juvenile and was still on probation when he enrolled for school. His life since then has seen five colleges in three different divisions, more arrests, and the birth of a daughter, now three. After struggling at Miami for two years, and getting kicked off the team at Louisville, he's now starting for Union College (Kentucky) of the NAIA and plans to graduate next year. He still has hopes of a shot at the NFL, which he may get. It's not his fault college coaches spent on more on gifts for him than they probably did on their own children, but his story is still a fascinating one. For example: how can one man eat all that lobster? The original diaries are archived behind a paywall, but are helpfully preserved by a Florida Marlins message board. (Of course.) Some of the highlights from his trips:
Florida State: I ordered a steak and a lobster tail. The lobster tail was like $49.99. I couldn't believe something so little could cost so much. The steak didn't even have a price. The menu said something about market value. I was kind of embarrassed so I didn't order a lot. 'But then I saw what the other guys were ordering, I was like, `Forget this.' I called the waiter back and told him to bring me four lobster tails, two steaks and a Shrimp Scampi. It was good. I took two boxes back with me to the hotel.'' They had jerseys with our names on it. They even had my No. 17. I told them `Isn't that number retired for [Heisman winner] Charlie Ward? Coach [Bobby] Bowden was like, `For you Willie, we'll bring it back.'' Miami: Coach Larry Coker picked him up at his Carol City home in a white Cadillac Escalade, then put Williams up at the Mayfair House Hotel in Coconut Grove. Williams' room featured a jacuzzi on his balcony. Following the campus visit, the recruits boarded a bus with the coaching staff and headed for the Orange Bowl ... ''We'd get to a red light and I would hold on because the bus driver would just take it,'' he said. 'I was thinking the bus driver was crazy. Coach Coker was like, `Willie, we've got police escorts.'" Auburn: ''The girls at the party were much better than the farmer girls we'd see all day around campus,'' Williams said. ``I was kind of worried all Auburn had to offer was those farmer girls that talked funny. But the girls at the party weren't farmer girls at all. I thought they must have bused them in from Miami.'' Florida: ''I ate so many meatballs, the people there started looking like meatballs ... 'The first night I was OK with eating at the stadium. But when they told me we're going to eat there again, I was a little disappointed. I was like, `Take us to Red Lobster or something.' That's when I pretty much made up my mind. I can't live in a place that don't have any restaurants. What am I going to do — fly home to eat shrimp?''
• Willie Williams Recruting Diaries:
FSU and Auburn
+
Miami
[Marlins Baseball] •
Williams Career Following Unexpected Path
[Rivals.com] •
He's Toasted, Then He's Toast
[NYTimes, 2004] •
"The Worst of Recruiting"
[Yale Herald, 2004] •
Diary Highlights
[SEC Fanatics] •
Former Miami Hurricane Willie Williams' odyssey continues
[Miami Herald]