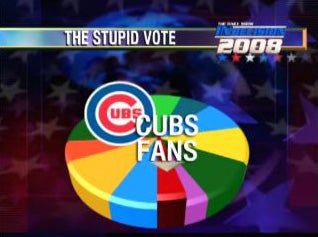 Some may say that the rest of America is piling on the Chicago Cubs and their fans; making too much sport of their misery. But is not our gentle mocking really a welcome distraction from all of the really serious problems in the world? I say that the Cubs are actually keeping this country sane. Witness if you will this amusing segment from the Daily Show with Jon Stewart from last night. Click to view
JON STEWART: Cubs fans are considered a subset of stupid? JOHN OLIVER: Oh absolutely John. They've had a hundred years to figure out that what they want will never happen, and yet they still yearn for it. JS: And that is stupid. JO: Yes, that's very stupid. JS: Because the Cubs will never win. JO: No, that's right John. The Chicago Cubs will never, ever win the World Series. They won't do it. JS: They've made God angry. JO: That's right. That's what I'm saying.
Thank you, Daily Show. And thank you, Cubs.
Baseball Rules On Comedy Central's Late Night Shows"> [Big League Stew]
The Daily Show With Jon Stewart