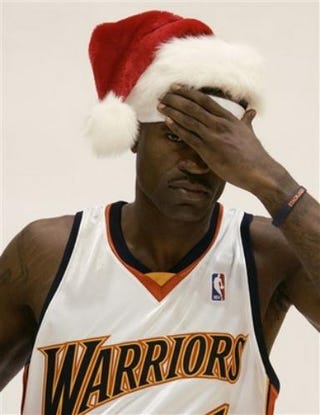 NBA training camps have begun; the season is rapidly approaching. Can you dig it? I knew that you could. And so we continue our previews: 30 of them in 30 days. Up next is a team that is so totally screwed: The Golden State Warriors.
When last we saw them:
Finished 48-38, third in the Pacific Division and ninth overall in the West. Failed to live up to their rep as the NBA's premier feel good team by not returning to the playoffs to act as a bracket buster for the second straight year.
Key Arrivals:
Anthony Morrow, Anthony Randolph, Corey Maggette, Marcus Williams, Richard Hendrix, Ronny Turiaf
Key Departures/Defections/Jailbreaks:
Austin Croshere, Baron Davis, Chris Webber (does this really count?), Kosta Perovic, Matt Barnes, Mickael Pietrus, Patrick O'Bryant, Troy Hudson
The Good:
Wow. Writing this section is like trying to pick delicious leftovers out of a McDonald's dumpster, but here goes. Playing Nellie Ball means the Warriors will score a lot of points: They led the league last season in both scoring (111.0 PPG) and shot attempts (90.3). They signed their franchise guy, Monta Ellis, to a long-term deal. Andris Biedrins, whom they also locked up for six years, is a double-double machine who doesn't require a lot of touches. Stephen Jackson can light it up (20.1 PPG last season), plus he provides scary toughness and emotional leadership. Corey Maggette loves to shoot the rock, which means he'll fit perfectly into Don Nelson's offense. Al Harrington can do a little bit of everything
and
he's just entering his prime (Harrington turned 28 last February). Ronny Turiaf may be limited in the talent department, but he'll certainly bring intensity (
and insanity
) off the bench. Kelenna Azubuike and Brandan Wright are talented up-and-comers. Marco Belinelli and rookie Anthony Randolph looked great in the Summer League. The bench is a little deeper, so Nelson won't be have to rely on his patented six-man rotation.
The Bad:
Baron Davis defected to the Clippers (basically because Chris Mullin didn't want to pay him enough). Mind you, Davis was not only their best clutch shooter, he was their only real playmaker. Who's going to keep Nelson's offense running now? They weren't able to win (read that: give up bags and bags of money to obtain) Gilbert Arenas or Elton Brand in the free agent lottery. Shortly after he signed his new king-sized contract, Ellis got injured his ankle, had surgery (and will have to miss at least three months because of it), lied to his employers (and the world at large) about how he hurt himself, and then lost major cool points when he admitted that it happened while [DORK ALERT!!]
riding a freaking moped
. They probably overpaid for Biedrins ($62 million), who is talented but limited (think Troy Murphy 2.0). As I said above, Stephen Jackson is their EMOTIONAL LEADER. As a team, the Warriors treat defense like it's some kind of contagious disease; in 2007-08, they were dead last in points willingly surrendered (108.8) and 26th in field goal percentage allowed (.468). Their lack of size and helter-skelter playing style hurts them on the boards, which is why they were next to last in rebounding differential last season (-3.84). Half of the guys on the team are new this season, and their prime time player isn't going to be around for another couple months...so the team's chemistry and continuity are in question. Don Nelson is in the final year of his contract, so he's a lame duck coach. Their longtime mascot, Thunder, was another casualty of Clay Bennett's raping of Seattle.
Fun Facts:
The Warriors were founded in Philadelphia, Pennsylvania in 1946 as the Philadelphia Warriors, a charter member of the Basketball Association of America.
And check out their crazy mascot
. The Warriors have retired almost as many numbers as the Lakers: 13 (Wilt Chamberlain), 14 (Tom Meschery), 16 (Al Attles), 24 (Rick Barry), and 42 (Nate Thurmond). Only one Warrior ever made the NBA All-Defensive First Team, and it's been a while (Nate Thurmond made the team in 1969 and 1971). The Warriors could have drafted Vince Carter, but they traded his rights for Antawn Jamison.
Videotastic extra:
It's sad that the Warriors lost their mascot, but I know there's at least one cheerleader who's not sorry to see him gone...