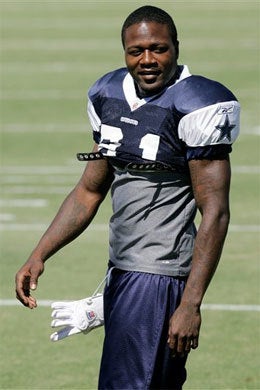 First of all, I have a feeling that the movie
Max Payne
is going to make me want to punch someone myself. Just a hunch. That's evidently what happened on Wednesday with the Cowboys' Pacman Jones, who was at an event for the movie at a Dallas hotel which was also attended by rapper Ludacris and actor Mark Wahlberg. Somehow Pacman got into a fight with one of his own bodyguards — a feat that even Tyson never accomplished — and someone called the cops. Anyway, Cowboys owner Jerry Jones says its all cool; the team won't discipline Pac, because they were merely "jiving around." Yes, he said "jiving." On Thursday ESPN had reported that Jerry Jones
was "furious" that Pacman couldn't stay out of trouble
. Seems not to be the case. The jury's still out with the NFL, however.
"I don't think there's any misunderstanding about the position that Adam has put himself in with respect to all of his behavior," Goodell said on ESPN radio Thursday. "I have been very clear with him on how his behavior cannot reflect poorly on himself, the team, or the NFL. I guess I would tell you that I'm disappointed that we're even discussing this at this point in time. We will have to wait for the facts, and understand exactly what happened before making any determinations."
Body guard Tommy Jones did not press charges following the fight at
the Joule Hotel
. Wonder what that giant wheel is for? Meanwhile, Uwe Blog is trying to help Pacman with some
Helpful Hints to Keeping Out of Trouble
, among which are yardwork, and porn.
Cowboys Won't Suspend Pacman; NFL Mum On Discipline
[USA Today]