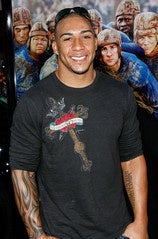 After a summer filled with horrifying testicular injuries in hockey and baseball, it appears Cleveland Browns tight end Kellen Winslow is also having his own nut trouble and will possibly sit out Monday Night's game against the New York Giants.
Pro Football Talk
, quoting a league source, says that Winslow was admitted to the Cleveland Clinic "because his balls swelled to the size of grapefruits." It was
first reported
as an "undisclosed illness" and head coach Romeo Crennell seemed to think it wasn't too serious, saying "his arms and legs aren't falling off or anything like that." Notice there's no mention of the peach basket, though, which is could be in peril. Hopefully he just slept on them the wrong way or is having some sort of odd physical reaction to new laundry detergent or something because nobody should have to be put through such torture and humiliation. We'll update as soon as there is further clarification...
Winslow has swollen, um, parts?
[PFT]