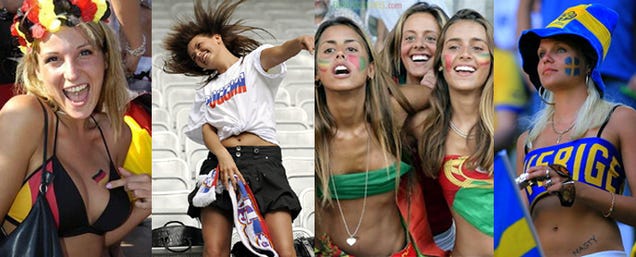 Weekends without league play are always a bit disappointing, but fortunately today is positively loaded with worthwhile international matches. World Cup qualifying is back in the spotlight and we're being treated to some great matches in Europe, as well as some crucial matches in Africa and the Americas alike. Today's featured matches at the pub include the European powers like Germany, Russia, Portugal, and Sweden. Additionally the United States is set to take on Cuba in primetime, so sit back and enjoy a marathon of world-class competition. Continue after the jump for a breakdown of the day's televised matches. There really isn't anything going on until this afternoon, so please feel free to drop in as the day goes on.
Co-Matches of of the Week
Germany vs. Russia at 2:45 pm EST on GolTV
Oh hell yeah, this one should be pretty damn good. The Germans and Russians both put up excellent showings at Euro 2008, and they look to carry that over into the 2010 World Cup Finals. The two countries are the best in their particular qualifying group, so one of these will wind up in the tournament while the other will have to endure another stage.
Portugal vs. Sweden at 2:00 pm EST on Setanta Sports
Ronaldo is healthy, but his countrymen from Chelsea are a bit banged up. Deco and Carvalho are certainly out, however their club and national teammate Bosingwa is good to go. Zlatan Ibrahimovic is ready to lead the Swedes, even if they
aren't quite fit in their own right
. Expect goals.
Other Games of Interest
England vs. Khazakstan at 12:00 pm EST on Fox Soccer Channel
Capello's squad better come through with another decisive win. Otherwise they'll face the wrath of one pissy queen mother.
United States vs. Cuba at 7:00 EST on ESPN Classic
Sure, the US is all but assured of moving on to the next stage of qualifying. That doesn't mean that you should deprive yourself of a chance to see Jose Francisco Torres debut with the USMNT. The US should win by a couple of goals, the real question is how many Cubans will defect. Considering the game is at RFK I'm going to say zero.
Peru Uruguay vs. Argentian at 12:55 pm EST on ESPN Deportes
All this time I thought ESPN Deportes was a 20 second segment on the occasional episode of SportsCenter. Apparently it's an entire channel, who knew?!
Estonia vs. Spain at 2:30 pm EST on Fox Soccer Channel
Spain is even fun to watch when they're playing against an opponent representing a fictional nation.
Romania vs. France at 4:00 pm EST on Setanta
Usually I'm hesitant to admit my fondness of the French squad because they're...well, you know...French. Now I have trouble admitting it for another reason. Yep, they certainly have sucked as of late. However, I don't see myself getting bored of Franck Ribery and Samir Nasri anytime soon.
Bulgaria vs. Italy at 5:45 pm EST on Setanata
You know what? Just watch football instead. Seriously though, fuck the Italian team in their azzurri pants.