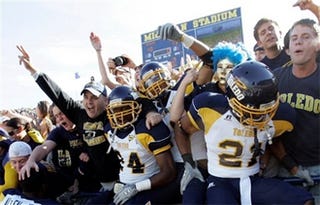 The commenters have been discussing this game everywhere since it started. But now that the dust has settled, it's time to count the bodies: Michigan lost to a MAC team for the first time...ever. Michigan kicker K.C. Lopata had a chance to send the game to overtime...and missed. Toledo, who has lost to Florida International, Arizona, and was shut out against Ball State, is 2-0 in the state of Michigan, having beaten Eastern Michigan in Ypsi four weeks ago. Stunner. Now let's see what you told Hugh about that game, and a couple others:
This may be the first time in history that Michigan has a must-win, non-cupcake game against Toledo. Michigan's 2-3, and needs four wins to keep the longest active bowl streak alive. And those wins must come against Toledo, Penn State, Michigan State, Purdue, Minnesota, Northwestern, and Ohio State. I can't even believe we have to talk about this, you suck, Michigan AD Bill Martin. First basketball, now football. Stay out of Yost.
—As In Howe
Michigan should be relegated to the MAC after this season.
—Slothrop
Michigan, displaying the kind of play that has caused a precipitous drop in GPAs across the student body, but has made U of M hospital number one in the nation at treating alcohol poisoning.
—Fraganhome
Instant analysis from Toledo, who had one win all season upsetting 13-10 win over Michigan: AAAAA-HAHAHAHAHAHAHAHAHAHAHAHAHAHAHAHAHAHAHAHAHAHAHAHAHAHAHAHAHAHAHAHA.
—Sussman
Pam Ward is calling the Northwestern game today at a stadium that used to be called Dyche Stadium. I don't even think I need to make a joke here.
-Oftenhgheigh