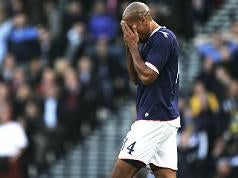 First-time Scotland national team player Chris Iwelumo choked on an open net in World Cup qualifying yesterday. The 30-year-old received "a perfect ball across the face of goal to Iwelumo just a few yards out with the net gaping."
It was a nightmare start to an international career which had been a long time coming for the 30-year-old and he admitted: "I'm obviously gutted. "I had a big chance and I should put them away so I'm disappointed. I just have to bounce back and keep positive. "I was confident and I put my foot out and it hit the heel. I'm gutted. But it's gone now and I've just got to move on.
The next qualifying match isn't until March 28th at the Netherlands, so he might be thinking about that one for a while.
Chris Iwelumo Will Not Sleep Well Tonight
[FanHouse]
Iwulemo dismay at an amazing miss
[ESPN]