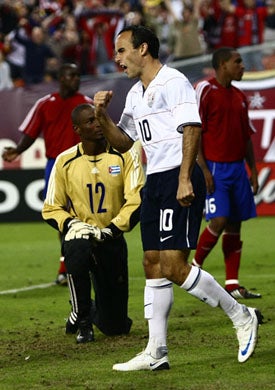 The United States Men's National Team was firing on all cylinders against a depleted and disorganized team of Cubans last night in the cozy environment of RFK Stadium. The stadium's notorious supporters of DC United were joined by a crowd of over 20,000 bouncing fans. The US scored in droves , but the true star was DaMarcus Beasley who put on his best display since returning from reconstructive knee surgery.
The 6-1 victory over Cuba not only secured passage to the final round of qualifying for the 2010 World Cup, it provided a stage for DaMarcus Beasley to exhibit his dynamic skills on the international stage again and for Landon Donovan to orchestrate the attack with blinding results. It allowed Jose Francisco Torres, a Mexican-American midfielder who had his choice of countries to represent, to make his debut, for Potomac's Freddy Adu to contribute close to home and for Olney's Oguchi Onyewu to cap a stirring second half with a late goal. The Americans improved to 4-0 in group play, and with two inconsequential matches remaining, Bradley can test young players and expand his player pool before the six-team final round begins in February.
Oh and of course Jozy Altidore had to
get in on the action
in the 87th minute. The Cubans played a man down for much of the match after a pair of yellows in the first half hour. Worse yet, another pair of players
took the opportunity to defect
. Welcome to DC, my new friends. Would you happen to have any cigars for sale, perchance? The rest of yesterday's World Cup qualifying results
can be found here
.
U.S., Bradley Enjoy an Easy Night