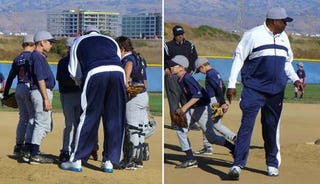 What I learned this weekend: Dusty Baker can mismanage a pitching staff even if it consists of 9- and 10-year-olds. OK, in his defense, his team was enjoying a 25-3 lead when Baker inserted his son, Darren, in relief in the fourth inning on Saturday. Darren proceeded to pour gasoline on the fire by allowing four runs, precipitating this visit to the mound by dad. The conversation may have gone something like this:
"I had to take this shit from Josh Fogg, but I'm not going to take it from you. Get this next guy out or no post-game Slurpee!" Darren: "I hate you!"
Baker
was fill-in coach for Darren's 10-under NorCal Travel Ball baseball team
during this past weekend's Fall State Championship Tournament at Twin Creeks Sports Complex in Sunnyvale, Calif. Your intrepid reporter was on the scene — it was either this or a matinee showing of
Beverly Hills Chihuahua
— as Baker's team, Hard 90 Pastime out of Roseville, fought to an exciting 27-7 victory in game one of a doubleheader. From what I could tell, Baker's duties consisted mainly of:
Coaching first base
;
signing autographs
; and
helping players put condiments on their hot dogs
. "This is a lot of fun, and something I never thought I'd be able to do until Darren was older," said Baker, who may have disappointed many fans by not wearing wristbands for the gig. Instead he rocked the track suit and the Nike Air Maxs. "My dad coached me in Riverside when I was 15, so it's great to be able to do this with Darren. I'm enjoying it; being back in the San Francisco area and all that. The kids are great." The biggest challenge in coaching nine-year-olds? "Getting them to focus," Baker said. "Sometimes you wonder if they're listening." So, just like the Reds! The players weigh in: Ross Strider, 10: "It's awesome have Dusty Baker as our coach. He gives us great tips, like how to block out the sun on a fly ball, and how to tell which way the wind is blowing." Brian Goad, 10: "It's really fun; he makes us want to play harder. But after awhile you forget he's Dusty Baker. He just seems like one of the dads." Alex Rose, 9: "Darren is a good friend, and he's really fast. He thinks he's faster than me, but nope. He isn't."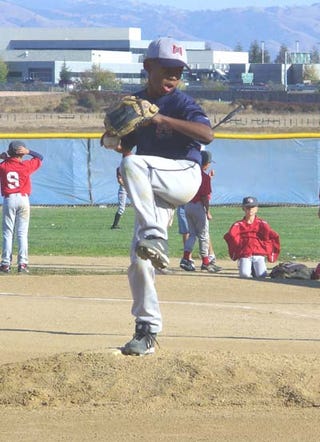 Dusty Baker Gets Fall Coaching Gig — His Son's Team
[Sacramento Bee]