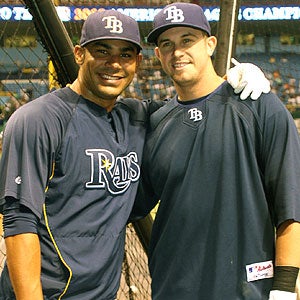 Nice catch by Shysterball , about a minor controversy from Evan Longoria's Eva Longoria-filled interview with Big League Stew's Dave Brown earlier this month . It stemmed from this question, where Brown pithily asked who on the team should not sport a Rayhawk:
Q: Who on this team should not have gotten a Mohawk, no matter how much a team guy he wanted to be? EL: Well, he still doesn't have one. Carlos [Pena]. And I told him not to. He asked me multiple times if he should get one. I just don't think he'll look good with it. He's the clean-cut Latin guy on our team. I guess it's debatable if he's Latin or not. He is Dominican. I told him not to. Q: Has he been in the United States "too long" to be considered Latino anymore? EL: I don't even look at him as Dominican, and that's nothing against Dominicans, but he's been in the States for so long — he went to high school and college here — in the States. He's very well educated and it's tough for me to look at him and think he came from the Dominican.
So, not exactly a Joe Biden-like gaffe, but apparently it was enough of an unintentional slight to infuriate the Dominican population and result in an apology from Longoria which was run on
ESPNDeportes
: "Pido excusas a todos los dominicanos de todo corazón. Me excuso con los latinos si los hice sentir mal" Longoria said, which loosely translated means " I wholeheartedly apologize to all Dominicans if I made them feel bad." That photo of Longoria and Carlos Pena ran in the accompanying story, just to show that there are no hard feelings between the two. But in order for the apology to carry more weight, shouldn't the photo show Longoria embracing a dirtier looking, less educated Latino? What about Willy Aybar?
Evan Longoria apologized before he even had to
[Shysterball]