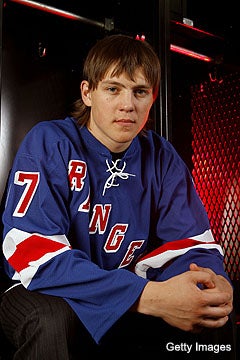 The details are starting to come in about the death of New York Rangers hockey prospect, 19-year-old Alexei Cherepanov. The initial reports had him suffering a cardiac arrest while sitting on the bench at a game in Moscow, but the story is getting even more random and tragic.
Puck Daddy has been all over it from the get-go
and cautious about implicating Jagr in the accident. But it appears that story is picking up momentum:
Cherepanov is dead. He collapsed on the bench on the 18th minute of the third period in the game against Vityaz Chekhov after a collision with Jaromir Jagr [his teammate on Omsk in the KHL]. He went to the bench and his heart stopped. He was taken to the emergency room at a local hospital where the best doctors in town worked for about an hour trying to resuscitate him. He was pronounced dead at 22:55 Moscow time (2:55pm EST). After the news the entire Avangard Omsk squad went to one of the local churches to light candles for Cherepanov.
Puck Daddy also shares this first-hand account version who says that Jagr was in tears and screaming "Wake up, Alexei!" after the young man collapsed. Crazy stuff. ESPN's
report has no mention
of the accidental elbow from Jagr. UPDATE: NY Times relays that Russian newspaper Daily Sports Express says cardiac arrest was not caused by accidental blow to the head by any members. [
NY Times
]
Rangers prospect Alexi Cherapanov dies after collision in KHL game
[Puck Daddy]
Prospect Cherapanov Passes Away at 19
[NY Rangers]