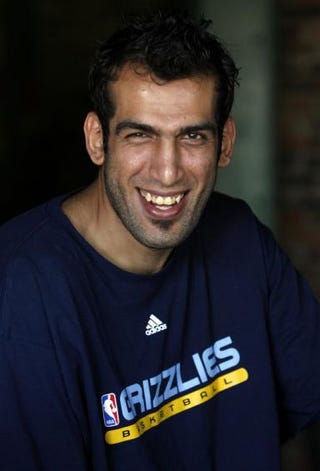 NBA training camps have begun; the season is rapidly approaching. Can you dig it? I knew that you could. And so we continue our previews: 30 of them in 30 days. Up next is a team that could be exciting but will probably be just as unBEARable as ever. Get it? Eh. Sorry. They are: The Memphis Grizzlies.
When last we saw them:
Okay, okay. Chances are you never actually
saw
the Grizzlies last season. But they finished 22-60, fifth in the Southwest Division and 14th overall in the West.
Incoming:
Antoine Walker, Darrell Arthur, Hamed "Who's Your" Haddadi, Marc Gasol, O.J. Mayo, Quinton Ross
Outgoing:
Andre Brown, Brian Cardinal (major loss there), Jason Collins, Juan Carlos Navarro, Kwame Brown, Mike Miller
The Good:
This might surprise you, given last year's Free Pau Gasol Giveaway, but the Griz have talent
and
a future. Their core is composed of former top 10 picks from the last three drafts: O.J. Mayo, Mike Conley and Rudy Gay. They've also got a couple new big boys to help up front: Darrell Arthur and Marc Gasol. Oh, and they're going to have some big bucks left over to throw at free agents in the summer of 2009. So yeah, the Grizzlies may be rebuilding, but they're off to a pretty good start. Gay is already firmly established, based on last season's numbers: 20.1 PPG, 6.2 RPG, and 2.0 APG. Mayo was immense in the NBA Summer League, averaging 18.8 points, 2.6 assists and 1.5 steals. He also hit
a 69-foot buzzer beater
against the Spurs and
brutally posterized Hilton Armstrong
. Arthur and Conley were also strong in Vegas, and Gasol - a former MVP from the Spanish ACB League - looked solid (if unspectacular) in the Olympic Summer Games. Basically, the team is full of youth, athleticism and excitement. Which is a hell of a lot better than the poop they were full of last year. Oh, and did I mention that Brian Cardinal and Kwame Brown are history? That's a textbook example of addition by subtraction.
The Bad:
The thing about youth and athleticism is that it often comes hand-in-hand with foolish inexperience. So expect mistakes. Lots of them, probably. And that excitement gets a little hard to sustain in the midst of a 30-win (or less) season. The Griz have six guards on the roster, and five of them are PGs. Who's going to play the point? And who's going to be shoehorned into a backup SG role? Furthermore, Memphis is a little lacking in the size department, which could mean that Gay will have to slide over to the PF position at times...and that does not suit him. This is the first year that the words "potential breakout year" haven't been used describe Darko Milicic, and for good reason. Antoine Walker is still Antoine Walker. (Did you know that every time someone says his name, Antoine shoots a three-pointer? It's true.) Speaking of threes, Memphis is grievously weak from the outside, and the Miller trade sure didn't help that. They also struggled in various other categories last season, including free throw shooting (where they ranked 26th in the league), assists (where they ranked 28th) and turnovers (also 28th). But their biggest problem is not on offense. Last season, the Grizzlies were an atrocious defensive team: They finished tied for last in opponents' field-goal percentage (48.0) and 28th in points allowed (106.9). Historically speaking, youth movements don't usually lead to better defense, especially when the coach is talking so openly (and gleefully) about pushing the tempo.
Fun Facts:
The Vancouver Grizzlies (along with the Toronto Raptors) were founded as an expansion franchise in 1995. Both teams were the first NBA teams to play in Canada since the 1946–47 Toronto Huskies. The Grizzlies were originally supposed to be named the Vancouver Mounties, but were forced to find a new name due to objections from the Royal Canadian Mounted Police. (I wonder what they had to say about
this guy
?) In the 1995–96 season, the Griz lost 23 straight games from February to April, setting an NBA single-season record shared with the Denver Nuggets (the overall record of 24, stretching between seasons, is still held by the Cleveland Cavaliers).
Videotastic extra:
NBA action in Memphis. It's grandparent-tastic!