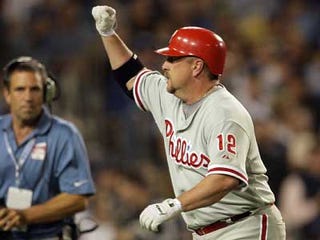 Matt Stairs' stay as a Philadelphia's favorite 40-year-old beefy homer-hitting Canuck continues today, with a story about him in
today's New York Times
that gives America's baseball nation a closer glimpse at the 16-year vet. The whole piece focuses on Stairs' everyman-ness and how he's a "guys' guy" who loves to play hockey and just do manly things. Stairs also assures the Times' that he's no pretty boy: "God knows I don't sit around in front of the mirror all day and comb my hair — as you can tell." Of course after
his quote
from yesterday, the story appears a little like well-orchestrated overcompensation. Again, this is Stairs' unfortunately phrased quote after his game-winning home run from Monday night:
"When you get that nice celebration coming into the dugout and you're getting your ass hammered by guys — there's no better feeling than to have that done."
It just gets better every time... But remember. Matt Stairs: Everyman. Hockey guy. Not a pretty boy. Not an ass hammerer. Got it?
Phillies have an unlikely Mr. October
[NY Times]