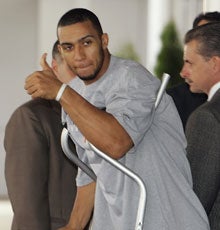 Kellen Winslow's mysterious "undisclosed illness" which has been rumored to be swollen balls according to
Pro Football Talk
,
might still keep him out
of this week's action against the Washington Redskins. Winslow's illness is still private, but according to Coach Romeo Crennel, he's recovering nicely after a week's worth of rest. So, it's not testicular cancer or anything like that. But what was it? According to one source, the culprit might be an overdose of erection enhancing medication. We've all seen the warnings that advertise to call your physician if you experience some, um, prolonged discomfort in that area for a long period of time. Yet he was in the hospital for three days, which is a long time to be laid up for something like that. The other rumored problem was just your garden variety STD, which,
as noted by many health website
s, can lead to some infections that cause you know, swollen parts. But a few shots and some rest and he should be set to go. Given the possible embarrassing reasons for his injury, Winslow will most likely hide behind HIPAA laws and the whole thing will be gone and forgotten once he steps on the field. But oh to be a fly on the ball in the Browns' training room the day before he was sent to the hospital.
Winslow remains questionable for Browns game versus Redskins
[Plain Dealer]