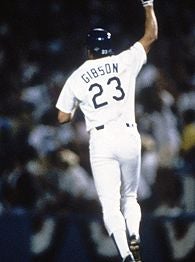 1988 was a year I didn't watch as much sports as I used to because I discovered Headbanger's Ball and had
hair that looked like this
, but I did watch the one-legged walk-off game by Kirk Gibson. (Most likely while ironing a Megadeth back patch to my jean jacket. Who got all the chicks?) As you may know,
tonight is the 20th anniversary of that cinematic Game
1, which eventually propelled the Dodgers to a five game victory over the heavily favored Oakland Athletics, led by their pair of power-hitting youngsters who
loved to hit the gym
. Tonight, I'm hopeful that 20 years from now I'll have my own memorable anniversary, when I can say I watched the Phillies defeat the Dodgers for the National League Championship series while watching it on TV by myself in my half empty apartment in Philadelphia. I have a bad, bad cold, that won't get any better if I'm out boozing it up. But a win's a win, and if it's only memorable for the fact that I watched the Phillies clinch the NL championship while Robo Tripping, well, so be it. Besides that will be an interesting post for everybody to read should that actually happen tonight. So this is the place to comment for Game 5 of the NLCS, where Cole Hamels takes the mound against Chad Billingsley. Type with the passion and grace you usually do right underneath this post. As always, thank you for your continued support of Deadspin. Everybody get off your feet because we got the
SKEETS
.