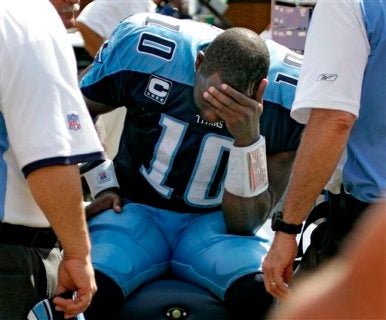 Vince Young wanted to get a few things off his chest on Wednesday; first and foremost that all the controversy surrounding him — specifically his famous meltdown during Week 1 — was largely a creation of the media. Oh, and also that he's a humble guy. No, make that, a great, great humble guy.
"I feel like they're writing my legacy," Young said. "They're writing my story. I'm a great guy, a great humble guy. I've done a whole lot in my career in just three years and for [the media] to do stuff like that to try to make me look bad for some reason — I don't know why — but they're just writing my legacy." I know who I am, everyone knows who I am as a person. They know good and well, I ain't trying to commit suicide or all that kind of crap. It was just a story everybody wanted to write. It was hot and everybody need to make their money, feed their viewers. I always get the bad end but I just brush that off and use that as motivation for myself."
Young also said that there's no animosity between himself and starter Kerry Collins, whom he calls "5," and that he's been nothing but supportive of Collins. So, sounds like all is well with Vince Young. Nothing can possibly go wrong for him from here on out. Nope. [
NBCSports
] •
Rookie Hazing Of Colt Brennan Brought To You By Antwaan Randle El
. And now, the musical stylings of Redskins' quarterback Colt Brennan, which does nothing to answer the question: If Brennan is going through the hazing, why are we the ones who have to suffer? Do Ho would not have approved. [
Mouthpiece Sports
] •
Who's In Your Favre Five?
If Brett Favre would get off the phone with Tony Romo for one minute, he'd see that Aaron Rodgers also needs some words of encouragement. Oh, he's being brave and pretending that he doesn't, but don't let that fool you. Call him, Brett. [
USA Today
] •
Tom Brady — Crutch Performer
. Only TMZ would hang out at a hospital to get video of Tom Brady on crutches. [
TMZ
] •
Intervention: Adam Jones Edition
. Pacman Jones uses his "vacation" from the Cowboys to begin alcohol treatment today at an undisclosed location in the Dallas area. The good news: The Associated Press reported that Jones will not have his probation revoked in Georgia as a result of the altercation in a Dallas hotel last week. [
Dallas Morning News
] •
Wait, Someone Wants To Join The Raiders?
Former Raiders receiver Tim Brown wants to come out of retirement and "lead the Raiders back to respectability." Good luck with that. [
NBCSports
] •
The Truth Is Out There
. Now it can be revealed: Peyton Manning's mysterious second knee surgery. What else are you hiding, Peyton? [
USA Today
]