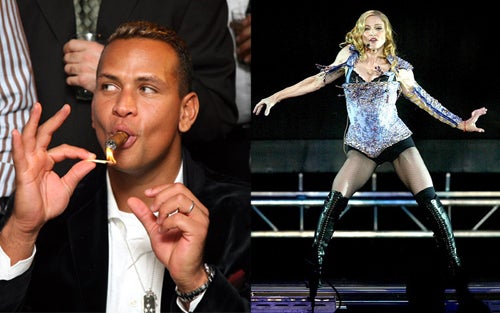 Well, this was inevitable. Now that she's officially divorcing her husband Guy Ritchie, the news resurfaces that over-striated singer Madonna is once again possibly doinking Yankees' third baseman Alex Rodriguez. (*kazoo sound*) To the celebrity gossip-mongering! Newsday's blog, The Final Score , begrudgingly passes along the news via US magazine which had this to say about the alleged unholy union:
As Madonna announces her divorce from husband Guy Ritchie, a source close to the singer tells Usmagazine.com she and the New York Yankees slugger "are definitely romantic." "Guy is not involved in this equation," the insider tells Usmagazine.com. "With or without A-Rod, Madonna and Guy haven't been 'together' for over a year - they have been privately separated. Madonna, however, wanted to finish her world tour before divorcing." An A-Rod source tells Us, "A-Rod and Madonna are more involved than ever." "Alex has really missed spending time with Madonna. However, he understands the position Madonna's in."
And E! News says that A-Rod has been "lying low" to avoid any connection to the split. But he won't let these pesky rumors get in the way of his
Kabbalah training
. Now is the time on Sprockets when we dance.
Source: A-Rod and Madonna Are "Definitely Romantic"
[Us Magazine]