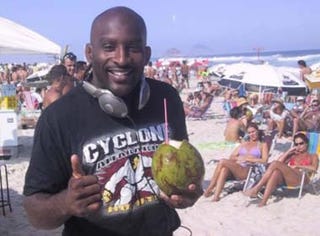 On Wednesday I posted about Lloyd Irvin, the Maryland Mixed Martial Arts instructor who said that he thwarted a home invasion robbery by disarming one of the intruders with a martial arts defensive move. If this were true, I wondered, why had it not been picked up by any news source other than the MMA site Bloody Elbow? Probably not a wise question on my part, seeing that Irvin could possibly break me like a Hummel figurine. But more importantly, on the chance that it
could
be true, my snarky attitude in the post was quite probably inappropriate. At any rate, I got my phone number to Irvin — who is in England coaching Brandon Vera in a UFC lightheavyweight nontitle bout with Keith Jardine on Saturday — and he called me Wednesday afternoon. Hilarity did not ensue. "I would have to be a pretty bad individual to fake something like this," said Irvin, who said that the incident,
outlined at Bloody Elbow
— has left psychological scars on his wife and 4-year-old son, who were in the home at the time. "Why has no one called me? Why has the Washington Post, CBS, NBC, nobody reported on this? I don't know. If they'd call me I'd tell them about it. No one has called me about it." Irvin said that his son is still having problems dealing with the events of Oct. 4, in which he says two armed men broke into his Accokeek, Md., home demanding money and valuables. He has since taken extra security measures at his home, and the family is considering moving. I called the Prince George's County police department, where a Det. Cobb confirmed that an incident had been reported, but that he couldn't comment on it further. According to Irvin, the events went like this: He was sleeping downstairs when, at about 4 a.m., he was awakened by two masked intruders with guns. They forced Irvin upstairs where they herded his wife, Vicki, son and Vera, who is a family friend, into one of the bedrooms. When the gunmen were separated, Irvin found an opening and disarmed one of them, he said. "I saw the other guy back in the hallway, I saw an opening and went for it," he said. "I hit the button (to eject the gun's magazine) and grabbed the gun, which fell to the floor. The guy ran out yelling "He's got my gun!" and they both fled." The police arrived soon after. Irvin said that he used the martial arts move to disarm the robber. "Its the kind of thing where there's no empirical evidence that it works; you never really know it works until the situation comes," he said. "What I did was not to try and be a hero. I made a decision that was in my family's best interests, and it just happened to work out." Irvin says that there has been a rash of home invasion robberies in Prince Georges County, where people who drive expensive cars are often followed home and robbed. Aside from his martial arts studio, Irvin, who coached 2004 U.S. Olympic Judo medalist Roddy Ferguson, runs a marketing company. "God played this out for me and allowed me to use my martial arts training to save my life," he said. "It's not something I'm bragging about, it just is what it is."
Lloyd Irvin, Family And Brandon Vera Attacked By Two Gunmen In Irvin's Home Saturday Morning
[Bloody Elbow]