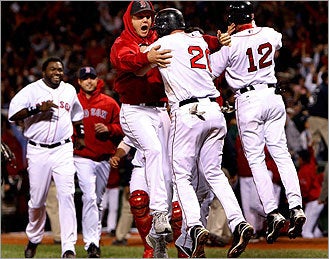 Well, the Tampa Bay Rays will have to wait until Saturday to clinch their first American League title because the goddamn Red Sox just pulled off the most remarkable comeback I've ever seen. For those of you who stopped watching after the Rays went up 7-0 while Kazmir was cruising, well, you missed an unbelievable show. The highlights won't do it justice. The Red Sox are just scary . To get a sense of how deflated the Nation and Fenway were at one point, let's check out Extra Bases live blog entry after the top of the 7th:
That's It, That's All After a double steal, Upton launched a 3-2 fastball off of Papelbon high to left, a blast that nearly scraped the Monster and bounded off the top of the scoreboard. Earlier in the at-bat, Papelbon tried to reclaim the inside part of the plate that Red Sox pitchers so readily yielded all series. Ultimately, nothing works against these Rays. That two-run double ought to be your ballgame.
WRONG. Anyway: Saturday. St. Petersburg. Game Six.
Rayhawk Landing Strip Country Club
versus
Stampeding Bald Eagles of Boston
.
Game 5
[Extra Bases] PHOTO:
Boston Globe