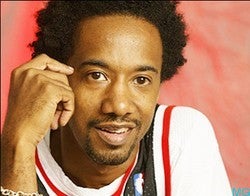 Buried at the bottom of Page 2 today is a clarification from columnist Scoop Jackson, who caused a veritable shitstorm thanks to his
B.J. Upton column
, when he haphazardly implied that Upton's laziness was a reason for young African-Americans to look up to him. Not really what he meant, of course, but that's how many people interpreted it. Well, Rob King's email box must have been locked-up due to all the hate mail because poor Scoop had explain himself to the Page 2 audience.
In my Wednesday column about B.J. Upton, I wrote something that sparked a reaction. The paragraph read: "The fact that Upton's not perfect makes him perfect. His propensity to be lazy (as witnessed in August when he 'decided' not to run hard on three different occasions), the fact that [Joe] Maddon literally pulled him off the field after not running out a double-play ground ball, the meaningless error in the seventh inning of Game 4 that allowed questions about his lack of focus to surface. All display a flaw in him that almost works to his advantage when kids and wannabe baseball players look at him and say 'I'm not perfect either, but look, he's still standing.'" For some readers, my choice of words created a misunderstanding. When the word "lazy" appeared in the context of a story about black youth, some concluded I was implying African-American kids would find the flaw of Upton being "lazy" acceptable and endearing. Nothing could be further from the truth. Upton has survived and triumphed despite numerous flaws. I mentioned several, in an attempt to show that it is his collection of imperfections that make him so publicly "human" — something not always so clearly visible with athletes today. That is also why I chose to finish the paragraph with the image of a kid — any kid, regardless of race, color or creed — who might identify with that humanity, realizing "I'm not perfect either, but look, he's still standing." My point is to highlight that we — as humans — can often identify with somebody through both their strengths and flaws, both of which are apparent in the new "hero." And regardless of the color of any kid's skin, flaws can be overcome. —Scoop Jackson
Honestly, this is astounding. So instead of really apologizing (which he shouldn't have to, by the way), Scoop essentially has to tack on an extra 200 words explaining what he meant by his silly little one-off paragraph? Like a DVD extra version of Scoop Jackson. This isn't even controversy we're talking about here, but basically a re-edit. And by burying it at the bottom of Page 2 — without commenting capabilities — does that really control any damage? ESPN obviously thought this situation needed to be fixed and this is a truly bizarre way of handling it. Why not just let him address the whole thing in a follow-up column? Or better yet, why not just make him spend a weekend at Le Anne Schreiber's house? It could be a very special E:60 episode.
Upton Clarification
[Page 2] (Waaaay at the bottom)