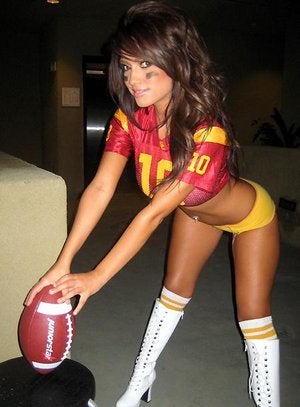 So,
Lou Holtz apologized
for his Hitler remarks from last night. If anyone has video of this, feel free to send along. Another guy who might have to issue an apology (a very personal one) is Terry Bowden, who wrote that his brother Tommy
deserved to get canned
. Texas Tech and Texas A&M are locked into a pretty good battle; early the fourth quarter, Tech is up 30-23. Georgia has a one-touchdown lead on Vanderbilt, and Maryland is blanking Wake Forest 19-0. (By the way, the picture -
found here
- accompanying this post has absolutely nothing to do with the games. I hope you don't mind too much.) Onto your comments...
On Gameday this morning, someone in the 2nd or 3rd row had a sign that said "CHASE DANIEL HAS A FUPA". Hilarity ensued when some ESPN techie with a headset stood on something, reached over some fans, and ripped it out of their hands. Please tell me someone has video of this..
. - Namssor224
Purdue's playing badly enough to give Joe Tiller a case of the 'beetus
. - s2nblog
I think Pam Ward could make stripper Jell-o wrestling with cock fighting in the background seem boring.
- greenmightymoose
Jerrod Johnson looks like the second coming of JaMarcus Russell. Good running skills, big arm, even bigger appetite.
- s2nblog
Cheering for Syracuse football is like cheering for rotary telephones, dial-up internet and Collective Soul. They haven't been relevant in years
. - DoctaJ716
Tommy Bowden must be crying into his $4 million buyout while Dave Pasch and Andre Ware tickle his balls on air
. - s2nblog
Either Lou Holtz just apologized, or Mushmouth said Fat Albert and Weird Donald were in trouble, I'm not really sure.
- ChadSexingtonDS