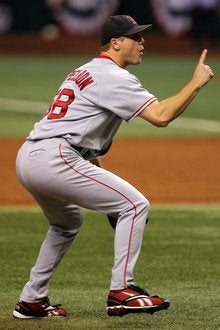 They say that there's nothing better than a Game Seven in sports. I'm not exactly sure who "they" are, but whoever they may be, they're some wise bastards. Even the most jaded sports fan can't help but get excited about the ultimate elimination game. Behind the left-handed arm of one Jon Lester, the Red Sox will be looking to put the finishing touches on their second miraculous ALCS comeback in the last half-decade. They have all of the momentum on their side, and even the burning hatred of most baseball fans outside of Massachusetts doesn't appear to be fazing them one bit. Matt Garza will attempt to right the ship for Rays, who appear as though they're resigned to this seemingly inevitable fate of theirs.
As the Rays walked down the tunnel to their clubhouse following the loss, heads hung, a teammate tapped shortstop Jason Bartlett on the shoulder, leaned in and said: "It had to be this way."
So it is. (Certainly a different tone from the Rays than the one they had earlier in the series, when they were not only kicking Boston's ass, but also
sleeping with their women
!) Assuming that TBS has
gotten their act together
, the battle to face Philly in the World Series will appear on your television screens in a little over half an hour. But don't go anywhere; World Champion live-blogger Matt Sussman will be here shortly to guide you through the festivities. Do enjoy.
ALCS is taken to the limit
[Yahoo!]
The Curse of Evan Longoria's Alleged Overconfidence and Debauchery
[The Sporting Blog]