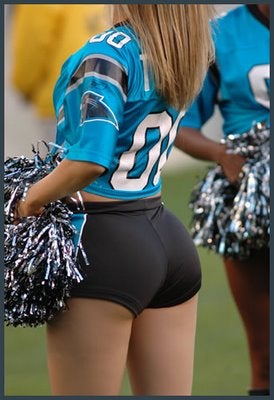 The games are still in their relative infancy, but here's what's going on so far...
• New Orleans at Carolina:
The Saints' Mike Karney carried the pigskin for a TD, and the Panthers put three points on the scoreboard early on courtesy of John Kasay's foot. Jonathan Stewart has given Carolina a 10-7 lead after rushing 10 yards for a TD.
• Minnesota at Chicago:
Pretty good battle brewing here. Purple Jesus opened the scoring, and Gus Frerotte and his gray hair found Visanthe Shiancoe with a 24-yard strike for a TD. Over on the Chicago side, Kyle Orton and Greg Olsen connected for a score, and the Bears defense returned a blocked punt the other way to the house after Chris Kluwe brought shame to himself and his entire family. 17-14 for the Bears.
• San Diego at Buffalo:
They're having issues with the power at Ralph Wilson Stadium, and reader John reports: "The Bills and Chargers are playing their 1pm game without power. The announcers are talking into cell phones to broadcast the game. There's no play clock, no game clock, no PA, no nothing. It's like a pickup game. Somehow the Bills were called for a delay of game. The game is not on TV. It's 3-0 Buffalo. Fantasy stats are not being updated." Somehow, Steve Harvey is to blame here.
• Dallas at St. Louis:
The
Buzzsaw
Rams are eating the 'Boys alive; after the 1st quarter it's 21-7 for St. Louis. Reaching the house for the Rams were Steven Jackson (twice) and Donnie Avery after he hauled in a pass from Marc Bulger.
• Pittsburgh at Cincinatti:
The Steelers are taking care of business against the toothless Bengals, leading 10-0 after Ben Roethlisberger passed to Mewelde Moore for a score, and Jeff Reed connected on a 21-yarder.
• San Fransisco at NY Giants:
This is another good tilt. The defending champs are up by four points early in the second quarter. Brandon Jacobs reached the promised land twice (including a 26-yard run), and on the other side of the ball, J.T. O'Sullivan and Josh Morgan hooked up for a score.