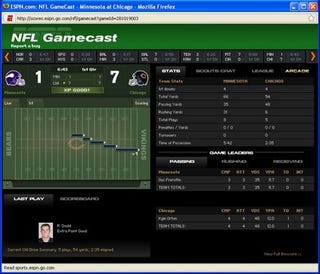 ESPN screw-up aside, there is a wild, wild game going on in the Windy City. The Bears lead the Vikings 27-24 in the third. Chicago's D has already scored two touchdowns, and Chester Taylor stole a TD from Adrian Peterson's fantasy owners just before the half. Blocked punts and field goals are everywhere in this one.
• Dalls at St. Louis:
And just in case you thought Cowboys fans were being premature in worrying about their team, behold! The
Rams
lead 24-7 in the 3rd. Stephen Jackson has already picked himself up two TDs. Brad Johnson, on the other hand, is, um, struggling. (I'd use harsher language, but his mom might be reading).
• San Diego at Buffalo
: Pre-game update: Power out in Buffalo. Second quarter update: Power back on. Halftime update: Power is
back out
(seriously)! It's 14-13 Chargers in the 3rd (thanks to reader John for the updates).
• Tennessee at Kansas City:
No shocker here, Titans up 17-0 in the the third. Brodie Croyle is hurt, Damon Huard is in. As if you care.