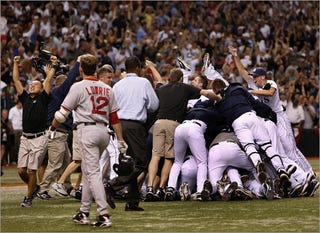 What they're saying, blogwise, about Tampa Bay's 3-1 win over Boston in Game 7 of the American League Championship Series ...
•
More Cowbell (UGH!)
. Boy oh boy is it going to be a long winter for yours truly. As if watching your team lose in Game 7 of the ALCS isn't bad enough, how about living in the area of the team that knocked off your club? If you think that kinda sucks, you'd be dead on. And if that isn't bad enough, what about having to shave an idiotic landing strip into your skull
because of a bet you lost
to a fellow writer/fan of the other team? [
Bugs And Cranks
]•
World Series Here We Come
. The coldest story was to be told tonight. The Rays were done. History was against them, but history doesn't play baseball. This team has shown again and again how true that is. This was freaking amazing series and frankly you couldn't ask for more emotion and drama. Four more wins. That's all we need. Four more wins. I GOT NOTHING BUT FIDDLE CATS. [
DRays Bay
] •
Tears Telling Of Tek's Future
. Dress it up however you'd like — Jason Varitek knows what is happening. His offense has diminished greatly. And now that he is set to become a free agent after the Rayhawks win the World Series, Tek may not be returning. You can hear it in his voice, you can see it in his eyes. When asked whether or not Game 7 of the ALCS was his last in a Red Sox uniform… well, you can see it for yourself. It's only a 20 second clip: [
The Boston Score
] •
ESPN Featured Comment Of The Week, Special Edition
. "Everyone waiting for the other shoe to drop on the Rays season, please pick up the first shoe." —
Kagney13
•
Why Are You Always Picking On Me?
. Yesterday, I chronicled Dennis Eckersley's whipping boy status during the TBS broadcasts of the ALCS. Well during the final broadcast for TBS after Game 7 of the ALCS, Eck was still not immune to any good natured ribbing as the fellas in the truck got him one more time. [
Sox & Dawgs
] •
The Question Facing Red Sox Fans Now Is ...
Most glaring of all, Philadelphia needs this win for it's sporting fan base. The Rays? Let's just say they haven't exactly earned this as yet. That shiny new team merchandise you saw those 15 year old kids and 70 year old Grandparents wearing at 'the Trop' (can you believe they are going to hold series games at that monstrosity?) will be on show again. Endless shots of spotty faced Tampa teens sporting brand new Rays caps with the silver MLB merchandise label still shining bright on them, yeah that's a fan base alright. [
Boston Irish
]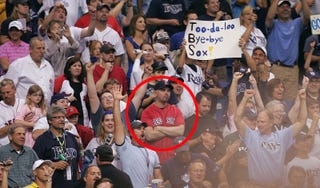 •
Tampa Bay Rays: 2008 AL Champs
. For the 99.2% of Red Sox Nation that are actually good sports and classy. Well done. Great series. It means so much to dethrone such a great organization. It means so much that we took down the best. We are sure you guys will be back next season and it won't be any easier. For the other portion of the Pink Hat Nation that lacks class, we present a gift for you ... [
Rays Index
] •
Take Me Down. Six Underground
. Oh and as for the World Series, I'm throwing my support behind the Phillies. The Rays are truly the story of the year—somewhere, Elijah Dukes is crying in his oatmeal—but I just can't root for a team from the AL East that ain't us. So here's hoping the Phils give the Rays some unholy hell. Especially that punk-ass Carl Crawford, who you know is just an injury away from boosting car stereos. [
Surviving Grady
] •
The Cowbell Kid Is Eating His Words Already
. Good lord, he's back this morning with more. I'm surprised no animals were sacrificed in the making of this video. [
Red Sox Monster
] •
The Green Fields Of The Mind
. By A. Bartlett Giamatti (abridged & told by baseball cards). [
The Baseball Card Blog
]