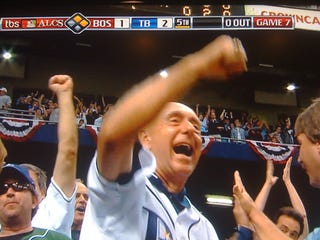 I have absolutely no doubt that, had he been on hand at the Little Big Horn in 1876, Dick Vitale would have been jumping wildly and screaming superlatives in support of Crazy Horse. "Custer has to pick up the defense, baby!" Not shown: The Red Sox jersey stashed under his seat, just in case. Video following the jump.
Dickie V: Shameless To The Very End
[Rush The Court]
As If You Needed Another Reason ...
[Somewhat Opinionated]