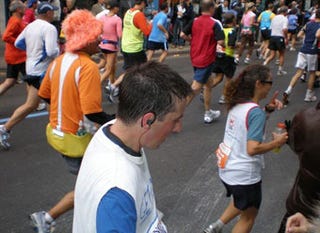 Pictured at left: Associate Editor Dash "running" the 2007 NYC Marathon.
Let me tell you a story. About 11 years ago, my college roommate and I went to our first Final Four. (If he's reading this, he should
email me
.) Our school, Michigan State, was not there, but we went as fans of the game and it was an amazing experience—like being at the Oscars of basketball. There's Rik Smits! John Wooden! (He was old even then.) I just rode in an elevator with Rudy Martzke and Mike Lupica! And there were basketball games, too.Anyway, it also happened that my roommate's uncle was a sports reporter covering Boston College at the time, and even though they weren't playing either, it was his beat, so his paper shipped him out. We hung out with him a bit, talked sports, talked writing, and he shared a few war stories. Then on Sunday morning, after the semi-finals, he got a call. Jim O'Brien, then BC's coach, had just been hired by Ohio State and the uncle would have to get on a plane and head back to Boston to do the story. He would miss the finals! My roommate and I couldn't believe it—he had the best seats in the house for the NCAA Championship and he had to leave to cover a personnel change! But you know what? He couldn't care less. He had very little interest in the game, was bored by Indianapolis (I know, right?) and frankly, was happy to be going home. Now that didn't make a lot of sense to a young college hoops obsessive like me, but as time went on, I came to appreciate his situation. Here was a guy that had seen it all—he covered the Knicks back when they were good, was pals with Reggie Jackson, confirmed for me that the Detroit Tigers clubhouse in the mid-80s was the worst place in sports (a fact I'm strangely proud of). He was a professional; one of the good ones. But
no one
does that job for 25 years—asking the same athletes the same questions on endless road trips with buffets that take years off your life—without losing a little bit of the joy that sports fans carry with them. Now, I told you that story, because I've been thinking about it a lot lately—the same way I thought about it when I got my first job writing about sports for a "Web site" back in the early 'aughts. (Excite.com. Don't bother searching.) Yes, I haven't always looked at smut for a living and so I (sorta) know of what I speak here. I gave up my weekends and nights to write about NASCAR and follow MLS scores and it only took about two years for me to reach that point where sports stops being something you follow for fun and starts being a job you resent having to do. Of course, that's what Deadspin stands up in opposition to and precisely because this is a different type of sports coverage, I hope the fun will be easier to hold on to this time around. That was a rather long-winded way of saying, I'm excited that I've been given the chance to work here and have another opportunity to write about what I love. It's been a couple years since I've done it full-time so I'm still getting my legs under me (baseball in Florida? Whatever!), but I'm eager to dive back in and maybe even write a hockey post or two. My allegiances should be clear soon, if they aren't already—Spartans, Tigers, Lions (sigh), college more than pro, I prefer to play ice hockey, but hate watching the NBA. Basically, AJ and Denton sat down and decided that what Deadspin needed most right now was some corn-fed Midwest state-school homerism in an ill-fitting leather jacket. And more hardcore porn. So done and done. * * * * * Oh, and one more administrative thing. I'll be handling the Blogdomes for the foreseeable future and we have a shiny new email address just for that purpose. So please my make my life as easy as possible and send submissions to
blogdome@deadspin.com
.