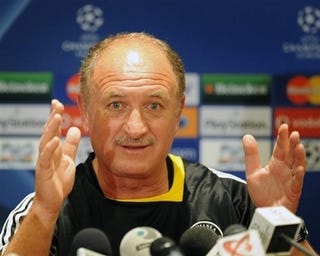 Michael Bertin writes regularly about soccer for Deadspin.
The league is over. I'm not so sure I believe it, but it's fun to make mildly outrageous predictions just over a fifth the way through the season. It's also really easy. Watch: "Chelsea have won the league." Piece of poundcake. Plus, if I'm wrong, I can write it off to one of those stupidly hyperbolic yet consequence-less claims sportswriters make. Those extension courses at the Mariotti School of Journalism and Sexual Orientation have to pay off somehow. And I'm not going gay.Chelsea stand on 20 points after 8 matches. At that clip they would equal their '04'-05 record setting point-total of 95. Two things: 1) Small sample size B) Aren't Liverpool also on 20 points? Yes and yes. In fact both teams have faced Manchester United at home with Liverpool taking three points, to the Blues' draw. So advantage Liverpool, right? Silly rabbit. Of Liverpool's six wins, four have come with the Reds enjoying a man advantage by the final whistle. Four! Shit, even I only thought it was three before I went back to look it up. It is a little misleading as Everton were already beaten when Tim Cahill got a straight red late in the second half—and really, Cahill can't get carded enough—and Vidic's sending off for United came in the 90th minute of a match that Liverpool had in hand. But, in the last two league tilts, six points have turned in Liverpool's favor on cards. Against Man City, they were down 2-1 when Pablo Zabaleta got sent off in the 67th. They won 3-2. Saturday against Wigan, they were also down 2-1 when Antonio Valencia got his second yellow in about five minutes. Final also 3-2. Lucky? Wigan manager Steve Bruce
has every right to bitch
about Valencia's first card. And
Kuyt's game winner
bounced off a defender, the keeper, the crossbar and right the post before deflecting in across the line but, even with the breaks, Liverpool did put the goals in net to get the points. Still, in a 38-game season it's better to be good than lucky because after eight games it's not so much the 20 points in the standings as it is the plus-16 goal difference for Chelsea. Every season but one this century the team with the best GD at the end won the league—the exception being '02-'03 when Arsenal was +43 and runner-up to United at +40—and Chelsea already has a relatively comfy six GD cushion over the Gunners at plus-10. (And note to Hull: only one team, '04-'05 Everton, has cracked the top 4 with a 0-or-worse GD in recent history, so enjoy your D-Backs-esque run in the top 4 while you can... or starting scoring more). The plus-16 might seem skewed given Chelsea's 5-0 Saturday thrashing of
Dr. Teeth
and The Electric Mayhem
but given the Blues' 4077th status the result is actually even more impressive. Entering the weekend, their injured players—
11 of them
—could not only field a full team but one capable of winning the Champions League, assuming it didn't go to penalty kicks (John Terry was on the list even though he did end up starting). That was a B-team (okay maybe B-plus)
Gene Hackman
(or
here
or
here
) sent out and they still trashed another Premier League side. Money can't buy you love, but love can't buy you shit, especially not the depth it takes to win in the Prem. So even if Roman Abramovich is taking
a £12 billion hit
as we collectively spiral toward becoming a global third world, he started out far enough ahead that his football toy is in good shape. Bad refereeing—and plenty of it though just 8 games has been fucking awful—will even out over the season but injuries will hit everyone at some point, and hard. So depth eventually becomes more important than luck in rescuing points here and there. Yeah, revelatory insight I know. But at least there's only a
six day wait
for the two parties is question to prove it true on the pitch. And if I'm wrong? Nothing happens.
Bruce Points Finger at Referee
[Independent.co.uk]
Abramovich Plays Down Losses
[Foxsports.com]