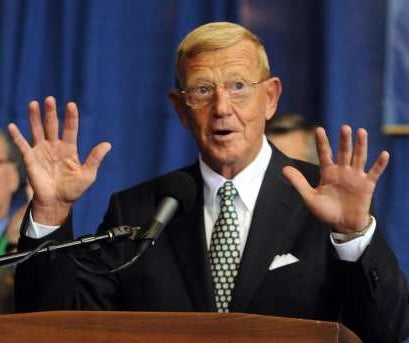 After Dr. Lou uttered "Ya Know, Hitler was a good leader, too " on Friday night while talking about Michigan head coach Rich Rodriguez he seemed destined to sit at home in his EZ Chair for a week. It would've seemed perfectly reasonable for Holtz to get a few days off considering what happened to columnist Jemelle Hill , but since none will be forthcoming , this could potentially create a more volatile situation for ESPN. The suspension of Hill was questionable in its aggressiveness and it's scolding tone. Remember? This is how ESPN responded: "[S]he's been relieved of her responsibilities for a period of time to reflect on the impact of her words...." And this was her apology:
I deeply regret the comment I made in a column Saturday. In expressing my passion for the NBA and my hometown of Detroit I showed very poor judgment in the words that I used. I pride myself on an understanding of, and appreciation for, diversity - and there is no excuse for the appalling lack of sensitivity in my comments. It in no way reflects the person I am. I apologize to all of my readers and I thank them for holding me accountable. This has been an important lesson for me and illustrates that, like many people, I still have a lot of growing and learning to do.
This was Holtz's:
Last night while trying to make a point about leadership, I made an unfortunate reference. It was a mistake and I sincerely apologize. At the time, I tried to clarify my remarks. I'm not sure I adequately did so."
The way they handled Hill's suspension seemed to send a clear message, one which was probably outlined in an inter-office memo sent through Bristol campuses upon completion: NO HITLER REFERENCES. Obviously, this is a case-by-case scenario. Hill's comment was deemed "insensitive"; Holtz's "unfortunate." Neither one is a capital offense in my book and an apology and a quick edit probably would have sufficed in Hill's case, but she still had to get pilloried by ESPN for the sake of what appeared to be an overarching corporate policy. But given Holtz's lack of suspension, it appears that ESPN's a little more elastic with their Hitler-isms depending on who says it, the context, and how much hate mail they receive as a result. So new policy: Old white man drops unfortunate anachronistic Hitler reference on live television about college football: on-air apology. Young black female uses insensitive Hitler reference in on-line column about NBA: written apology, follow-up column on topic, and suspension. Maybe it'll be in the next memo.
Jemele Hill Suspended Over Hitler Comment
[Fanhouse]
ESPN should suspend Holtz for Hitler remar
k [LA Times]
On ESPN, Society, and the Double Standard on Hitler References
[The Big Lead]