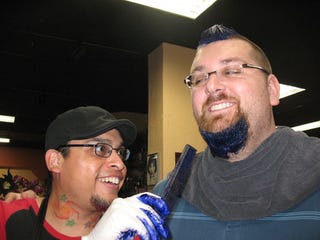 Yesterday, we ran The Angryville Chronicles, showcasing the worst-of-the-worst of Philadelphia's spirited sports-loving miscreants. Not surprisingly, the stories about Tampa fans were not as interesting. In fact, I received even more Philadelphia horror stories. Maybe there's some truth to this reputation. But, there were a few Tampa ones that only reinforce the idea that, yes, Tampa has a long way to go before they can be considered truly repugnant. Maybe this series with Philadelphia will enable them to unleash their inner dickhead. After the jump, watch the Rayshead Army grow up before your eyes.
PHOTO:
FresnoBee
Your Bay sucks
I'm a baseball hat collector, so I was obviously anxious to get the new Rays hats after they changed their uniform this year. One night in early March, before they were supposed to be available, I saw a guy wearing one in downtown San Francisco. I figured a local store had received their shipment early, so I asked him where he got it. His drunken (but surprisingly articulate) reply is etched into my memory: "I got it in Tampa. And before you ask, yes I'm a D-rays fan and yes, D-Rays fans DO exist. So what our team's not 100 years old? It's OUR team; we didn't have to steal it from another fucking city. And guess what? The Giants haven't won a World Series either, so don't fucking tell me MY team sucks. And I bet you think our stadium sucks too, but at least we don't have sushi and wine like you fags do. We don't even allow fags in Tampa. If someone showed up with a Giants hat we'd fucking kick that homo's ass. So you can't say shit about Tampa when you let that faggot cheater Bonds play." He was still going, and it was honestly pretty amusing, but people get beat up in the city for tamer remarks than those, and I wanted nothing to do with it. (I wasn't worried about getting into a fight myself, he could barely stand up straight.) But as I was walking away he yelled this gem out at me: "And you call that a bay? Your bay sucks!" So after numerous A's-(Devil) Rays games in Oakland over the past eight years, the only Tampa fan I've met was drunk, obnoxious, defensive, homophobic, and very proud of his bay. If that's anything to go on, I think it'll be a great series. Andy Northern
Dumber than a box of Dippin' Dots
I went to a couple of Rays games earlier this year, and they have to be the dumbest baseball fans I have ever encountered. They cheer like it's a grand slam for any fly ball hit within 75 feet of the warning track. They seem to know nothing about the nuances of the game; no reaction if a guy goes first-to-third on a single, only polite claps if a guy steals a base. But if the count gets to two strikes, look out: these cretins start banging their cowbells like there's no tomorrow. 0-2 count? COWBELL. Three more balls and a couple of fouls? That's right, you just earned yourself five straight minutes of COWBELL. They don't even seem to differentiate between the Rays and the opposing team; if the count gets to 0-2, they ring that cowbell. So I'm not sure if it's a supportive gesture or an intimidation gesture. Hope you can use this; I really was completely disgusted by these nimrods, and I usually go to baseball games in Atlanta, where the fan IQ is roughly that of a warm cup of dippin' dots. Andrew Kilpatrick
Fair point
Um, what Tampa Bay Rays fans? Until the last month or so of this season, the Red Sox (and I expect most other teams) considered a set at Tampa to be "home crowd" games. The little front-runners have also adopted COWBELLS, the world's most annoying and, by now, least original, form of athletic celebration, as their gimmick. Must be lot of transplanted Swiss in the area.
Not really what I was looking for...but okay!
Most baseball teams have what's called a "Kangaroo Court". This is basically an in house court that levies "roo's" (fines) that fit each, usually entertaining crime. For some teams that means buying a case of beer, others it means wearing women's underwear at a party, for us it was simply paying a small fine that went towards a party. This particular story happened to go down in Tampa and landed me an eternal roo, meaning I owe the team money anytime I show my face at school for alumni events – a fine never given out up prior or since. My college team was on a spring break trip to Tampa Bay and we had the night and next day off. This of course meant a lot of boozing. We went to some bar and got in under the assumption we were the Miami's (FL) baseball team. This was the opposite of true. Much drinking ensued and I distinctly remember talking to three Tampa high school girls. I was quite the class act at 21. We finally left the rather douche-y establishment around 3 AM. This is when the fun began. As we are walking back to our team vans I politely (drunkenly) nodded at a female passerby. At the sight of such a smooth (lame) move she grabbed me and stuck her tongue down my throat. At the time I was unaware of her Evan Longoria gap teeth or the eight inch Lizard tattoo down her left shoulder (Tampa. Class, class, class). I was drunk, horny and, like Offspring, ready to go. Honestly, I was just glad she wasn't fat. My teammates, however, would never let me forget her hideousness. As I walked/made-out with her back to our vans, I realized she was with two rather unattractive and lard-infused porkers. I didn't think too much of it the time, because I assumed one of my teammates would make like Captain Ahab and be down for some whaling. I was sorely mistaken. As soon as the two large ladies entered the Van, my red-headed friend Connor, politely informed them the rules of the van, "No fat chicks." Pissed the girls got out of the van and took my lizard-tatted friend with them. She wasn't done though and told me to come with her. I was stuck between my boner and self-respect. The team President came up to me and asked a simple, but profound question: "Are you sure you want to do this?" In a moment of clarity I actually took a few seconds and weighed the pros and cons of this decision. As has been the case for much of my life past the age of 12, my boner won. I bolted out of the van like I had stolen its radio and embarked on one of the most fucked up nights of my life. We got into a van cab (the fat girls needed to sit somewhere) and began driving to a dorm located on the University of Tampa Bay. It started out innocently, with a little petting and kissing, but quickly turned into a hardcore handy (under the pants, of course). To the chagrin of the two large ladies sitting in the row in front of us, the cabbie warned us three times to stop, threatening to kick us out. When we got there, another guy was waiting at the door for one of the larger ladies. They went into the lone bedroom and began playing "find the labia". Me and "Snakes" decided that the only way to truly enjoy the evening was in the shower. This went very well as there was a chair in the large shower and the things that can be done with a chair – outstanding. Plus, about ten minutes in I busted without her know, washed my D off and went back in (yes my dick is made of steel). Needless to say, I not once got in a face to face position with her, thankfully. After the shower, we moved to the couch and began another session of "don't look at me in the eye". This is when things got weird. Apparently, there was another roommate. He was a guy. And he was gay. He kicked open the bedroom door (daintily opened it) and proclaimed, rather rudely, "Eww, that's disgusting." Not to let this gay man (gan?) ruin my night-o-thrusting, I continued like a brave soldier or Kellen Winslow (a little too ironic now. Don't you think?). After a bit we stopped. The first male the one that had waited for the fat chick left and then came the heifer. She proudly bragged about the gentleman's large Johnson and matching blue pistol tattoos on either side of his junk. I wanted to be anywhere but there. Unfortunately, I was down "Hooked-up with Ugly Chick Creek" without a paddle, ride or funds to pay for a cab. This meant a half day with these wonderful ladies. I ended up learning that "Snakes" was 28, a teacher, was celebrating spring break and had recently bought a house with her ex-boyfriend before breaking up with him. She told me never to do that. I simply nodded and grunted my way through the rest of the day until she dropped me off at the beach where my team was graciously waiting for me to rip me a new asshole. I slept on the beach for three hours, gaining a sunburn and hopefully a life lesson. Dubs PS All the rumors are true. Tampa is full of sluts and douches with open shirts to their belly buttons.
Mons Venus is not the gateway to heaven
July 2000. My brother's bachelor party. We begin at a hotel sports bar, then debark for some anonymous, creepy industrial-highway joint where the dancers get less naked than Bucs cheerleaders. We're building up, you see, working our way up to the fabled Mons Venus, with the intention of finishing the night covered head-to-toe in skank glitter. But en route from the cinder block strip joint to Mons, unbeknownst to us, Bad Things Are Happening. We show up at Mons to find the parking lot full of flashing blue lights ... never a good sign. But we're so horned up, and we're sadly controlled-substance free, that we stroll on into Mons ... only to find it's got the atmosphere of a library. There's exactly one dancer jittering to "Kickstart My Heart," and exactly one dude in attendance, sitting on a folding chair so far from the stage that we have to walk in between them to hit the bathroom. Turns out, Mons (and every other strip club in Tampa) had been violating the "no dancing within six feet of the patrons" rule for, oh, EVER, and they just happened to decide to enforce it on this particular night, setting up a Vic Mackey-esque raid on every adult establishment in the entire county. The only upside was that the bust went down while we were in transit, so we weren't hauled away like the rest of the pathetic cubicle-dwellers. Still, the night ended at a Hooters with a bad taste in our mouths...and not the good kind of bad, either. Thanks ever so much, Tampa PD. Jackholes. Jay Busbee
She's just not that into you
This didn't happen to me, but I did see a Rays fan get in a fight with a Red Sox fan at a bar during Game 2 of the ALCS. Imagine that, someone defending the honor of the Rays. Other than that, I've been to close to 40 games in 3 years. Nothing bad. Even the parking is kind and gentle. I did get dumped by a girl from Tampa once. Jordi Scrubbings
That's a lot of blue
My favorite thing about Rays fans is how they love to dress as blue seats. This was taken two year ago. Remember this when you see all those 'fans' during the world series. Tyler Yarnell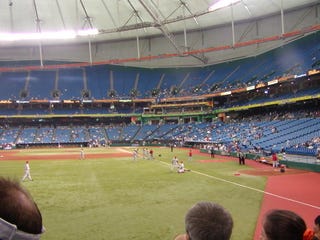 Your Tampa strip club story
July 2000. My brother's bachelor party. We begin at a hotel sports bar, then debark for some anonymous, creepy industrial-highway joint where the dancers get less naked than Bucs cheerleaders. We're building up, you see, working our way up to the fabled Mons Venus, with the intention of finishing the night covered head-to-toe in skank glitter. But en route from the cinder block strip joint to Mons, unbeknownst to us, Bad Things Are Happening. We show up at Mons to find the parking lot full of flashing blue lights ... never a good sign. But we're so horned up, and we're sadly controlled-substance free, that we stroll on into Mons ... only to find it's got the atmosphere of a library. There's exactly one dancer jittering to "Kickstart My Heart," and exactly one dude in attendance, sitting on a folding chair so far from the stage that we have to walk in between them to hit the bathroom. Turns out, Mons (and every other strip club in Tampa) had been violating the "no dancing within six feet of the patrons" rule for, oh, EVER, and they just happened to decide to enforce it on this particular night, setting up a Vic Mackey-esque raid on every adult establishment in the entire county. The only upside was that the bust went down while we were in transit, so we weren't hauled away like the rest of the pathetic cubicle-dwellers. Still, the night ended at a Hooters with a bad taste in our mouths...and not the good kind of bad, either. Thanks ever so much, Tampa PD. Jackholes. Jay Busbee