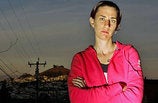 Foot races are the oldest form of athletic competition there is and even after 4,000 years or so the premise remains the same: Point A to Point B, who ever gets there first wins. Unless you're at the Nike Women's Marathon in San Francisco, a race that Arien O'Connell foolishly assumed she's won, simply because she ran the course faster than anyone else that day. Well, that was
her first mistake
. Arien is a fifth-grade teacher, not a professional runner, so she didn't enter herself in the "elite" seeded group that started 20 minutes ahead of everyone else. However, she underestimated her awesomeness by so much that her finishing time was
11 minutes faster
than the official declared winner—but when she pointed that out to race officials, they told her to go take a 26.2-mile hike.
No one seemed exactly sure what to do. The trophies had already been handed out and the official results announced. Now organizers seem to be hoping it will all go away. "At this point," Nike media relations manager Tanya Lopez said Monday, "we've declared our winner." O'Connell said some race officials actually implied she'd messed up the seeding by not declaring herself an "elite" runner. "If you're feeling like you're going to be a leader," race producer Dan Hirsch said Monday, "you should be in the elite pack."
Setting aside the fact that there was no way Arien could have predicted that she would break her personal best by 12 minutes (Hint: That's a lot) or that it would be good enough to put her out front, the officials at USA Track and Field do have a point. Because she was in a different start group, the actual leader would not have known she was racing against someone else and could not have adjusted accordingly. On the other hand ...
come on
. A freakin' elementary school teacher comes out of nowhere to absolutely destroy your "liberal elite" San Francisco runners and you want to act like it's her fault you're not giving her a medal? I think Jon Hendershott, the associate editor of Track and Field News, puts it best: "That's pretty weak." •
At Women's Marathon, fastest time didn't win
[SF Gate]