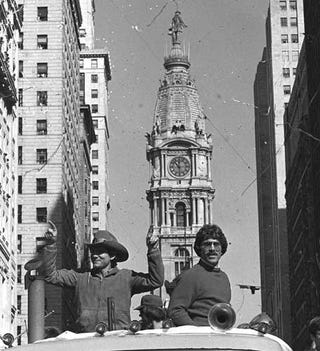 I haven't eaten all day, just quietly sitting here watching the time go by, reveling in the moment before something inevitably goes wrong. This is the great unknown portion of the program, where you can sit back, take it all in, and just marinate in the reality that your team is inevitably part of all sports-related news for the next,week. This is the part where highlights are still fun and a good portion of your day is just spent reading everything possible that's written about this team, both good and bad, and just enjoying it. Because a week from now, who knows how you'll feel?I have no confidence in the Philadelphia Phillies to win the World Series. I'll freely admit that. This is just the type of scenario that Philly sports fans have become accustomed to in the past 25 years, where even our best teams will come up short against an opponent we wholly underestimate. In this case, it's the Rays, a team that's now grown on me for the sheer fact that they're so damn young and, man, what are these guys going to look like over the next few years? On paper, they're the better team. You can say all you want about the Phillies' bullpen and the offensive firepower that intermittently pops up, but the Rays, top to bottom, just seem stacked. And naive. After the Red Sox pulled off their typical Voodoo Bullshit win in Game Five, the Rays inexperience began to show through. Game Six went to Boston and the collapse seemed inevitable. But then came Game 7 and all of those questions about the Rays immaturity and inexperience completely went out the window when David Price struck out J.D. Drew in the top of the 8th. Voodoo Bullshit over. Rays win. During the NLCS with the Dodgers, I developed the quiet confidence of someone who felt like, for once, that the Phillies would pull it out. The big hits came when they were supposed to, the pitching held up as it was supposed to, Brad Lidge didn't meltdown at all. Everything was strangely going according to plan. And after it was finally over, there were no tears of joy or curses lifted or real celebrating because, let's face it, we've been here before. I can see how the rest of this plays out: Hamels gives ups two bombs in the first inning tonight, Kazmir shuts the Phillies down, the Series becomes a total bore for everyone including Rays fans, and the Phillies fans will have to sit and watch another team added to the list of also-rans. Congratulations, Tampa. See?I only know how to expect the worst. I can only hope that at some point in my life, I'm legitimately surprised by an outcome. I want to experience a shock to the system that keeps a smile on my face for days. I want to tell people I'm a Philadelphia sports fan and not get a "Sorry" as a response or, in most cases, a look of utter disgust. I don't feel like I'm owed a championship. I don't feel like this will alter the course of my life if the Phillies win the World Series. I won't contemplate hanging myself if they don't. But I do want to win. Now that I'm an adult, I want to know what that feels like. Even if it only happens once. Tonight...watch the Philadelphia Phillies personal lucky charm, Matt Sussman, keep the dream alive with his live-blogging exhibition. Tomorrow: Happy/sad/something. And even though it's completely tasteless, here's a photo just cuz: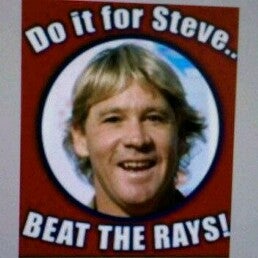 (IRWIN PHOTO: Courtesy of
PhillyPhellas.com
) Thank you for your continued support of Deadspin. Now, let's go cheer on those Fightin' Phils, who are still, in my mind, lack of confidence or not, the team to
SKEETS
.