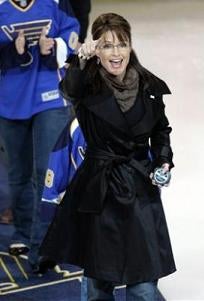 Now sure, the McCain/Palin campaign have had their hardships over the past few weeks with some bad PR issue - who doesn't spend $150,000 on their wardrobe? - but until last night we didn't have indisputable proof that they are completely incapable of leading our country! At the most recent Palin puck-dropping ceremony in St. Louis, the vice presidential candidate made sure that Blues goalie Manny Legace didn't know there was a carpet on the ice, just so she could watch with glee as he left the game with an injury. (What liberal media bias?) Alright fine. It wasn't that bad, and it wasn't really her fault at all. It was silly Manny Legace and his inability to take warnings seriously.
"I went to go step on the ice and the (Scottrade Center security) guy goes, 'Watch the carpet,' and he had his foot there holding it, so I figured it would be safe to step on," Legace said. "If he's holding it and I figured the other end's pretty much secure, I was just worrying about the carpet slipping (forward). As soon as I went to step down, he took his foot off the carpet. As soon as I stepped on the carpet, the carpet just shot out and my leg kept going and my other one was still on the bench. I felt it pull right away."
Legace officially has as a "strained left hip flexor" but is expected to be back on the ice by next week. The biggest news, for the candidate at least, was that Palin received "more cheers than boos" this time out. Maybe it's because the folks in St. Louis have something the fans in Philadelphia don't: a little thing called
class!
Goalie injured after tripping on Palin carpet
[AP]