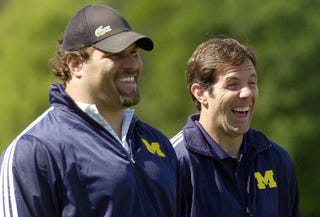 Texy let us know that Brian Griese had an awful time remembering Chris Weinke's name in the Texas-Team That Will Lose to Texas game. We don't think Chris should be offended. He had a fine sports career and should be proud of his efforts. Besides, who's gonna remember Brian Griese in three years? We mean, besides Chicago Bears fans with sticks.
Corey:
I turn 25 today, and my dad got me a Virginia Tech colored Pittsburgh Pirates hat. It was then that I realized that I root for two of the worst offenses in the history of sports.
(Entry of the day.)
Pre-Eminent Liveblogger Matt Sussman:
Oklahoma has scored 55 points on Kansas State. At halftime. Don't count the Wildcats out of this, though, because if they use the Rock 'n Jock Football rules for the second half, touchdowns are worth double and K-State can score 50 points if Carmen Electra can throw a football through the Jolt Cola swinging tire.
(Dan Cortese just called us. Freaky. We turned down the life insurance.)
Herbies_Wingman:
Smart move by Kansas scheduling Texas Tech as their homecoming game. Mangino must have been in a diabetic coma when that idea was approved.
(Again, just to be clear: Mark Mangino has a slight weight problem.)
Ray Wert:
Announcer (at WI/IL) just said something like: Those "Nameless, faceless people on the internet who just cast aspersions..." Pretty funny.
(As we told Mr. Wert, we're only accepting tips from people that
have been on The Colbert Report
.)
Lady Andrea:
Grant Harold for Texas Tech is wearing make-up today. He looks like the 4th member of Demolition. Axe, Smash, Crush... and Harold.
(We noticed this early today but couldn't figure out how Gene Simmons got eligibility.)
I Heart Poop:
No score in the Texas/Okl St game yet. Were both teams killed in bus accidents on the way to the game or is Colt McCoy refusing to come out of the locker room because his ass looks fat in those pants?
(We only post this so our next contributor knows who to deal with.)
Texy:
I would love to know what goes into the recipe when Colt McCoy "puts some zuzu" on the ball.
(Just the petals.)
skollycoddleloo:
Poor Stafford. He overthrew that pass like a guy at a bar that picks up this really hot chick, and then gets her home, and then goes STRAIGHT for anal and she gets all pissed off, and all he can do for the rest of the night is just watch Three's Company and masturbate while I gorge myself with cheetoes. Wait, what?
(Come and knock on our door for one more Hugh! in about an hour.)