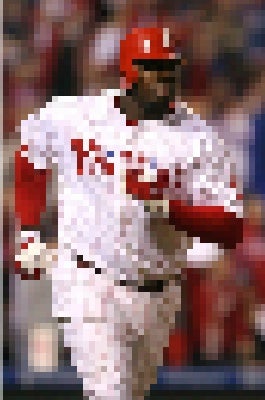 We started receiving rather angry emails just after midnight. No, our ex-girlfriend hadn't left her
Mail Goggles
off accidentally. (She never leaves it off accidentally.) The emails came instead from angry viewers in and around Philadelphia, describing their anguish and rage over missing the back-to-back home runs by the Heroes of Philly, Chutley and Sub Howard, in the bottom of the sixth inning of World Series Game 3 because their picture went out. As it turns out, all these customers had one common thread: they were all Comcast customers. (Oh, and the 'royally pissed' thing. That was fairly ubiquitous.) We solicited more information from you, the loyal Deadspin reader, in
last night's liveblogpalooza
and heard from even more of you that could flesh out the details: for about 20 minutes at what seemed like absolutely the worst time, the screen froze, pixilated, and/or cut out completely. One of you put it as such: "I live in center city Philly, and I could see a lot of other TVs having the same problems when I looked out the window. It came back on in the top of the 7th - at first with no sound, now it's normal." Others of you put it in slightly different ways that are probably unpostable but understandable. We also received reports from south Jersey and the Philly suburbs, making us think it wasn't just the
usual Comcast complaints
. So we followed up with Comcast and Jeff Alexander, Comcast spokesperson, fessed up to dropping signal on Fox for the whole area:
A little before midnight we detected a equipment failure that resulted in disruption to most standard definition broadcast channels, including FOX. The issue was detected immediately by our internal monitoring tools. However, it took anywhere from 15 to 25 minutes to restore. We sincerely apologize to our customers and know many of them were watching the World Series
Sounds like the problem's been restored and there should be no problems oncesoever for Game 4. Still... HD antennas are, like, $30. We expect a run on the Best Buy bank in Philly in the morning.