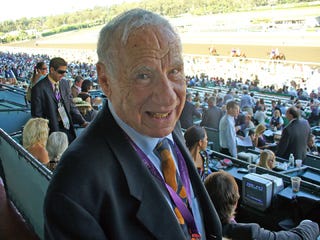 I don't have many living idols, due to the fact that such folk have an unfortunate tendency to let you down. But I make an exception with this gentleman, who is a big reason that I accepted an invitation to attend the Breeders' Cup at Santa Anita this past Saturday. Meeting the great Mel Brooks was certainly a bigger thrill than watching Curlin, who must have had an extra large helping of Fail mixed with his alfalfa that morning, finishing fourth in the Classic. Fortunately, there were eight other races from which to choose an Official Deadspin Horse of the Breeders' Cup, and your Deadspin betting consortium of myself, A.J. Daulerio and the comedian pictured here came up very big indeed. Well, if you call collecting $187 on a $50 bet big, that is. It was just before the seventh race, and my call to Daulerio went something like this: Me: "I'm picking a Deadspin horse of the Breeders' Cup. We're going with Midnight Lute." A.J.: "Who?" Me: "Midnight Lute. He hasn't won a race in a year, has started only once in the past 11 months, and has a crack in one hoof. No way can he win. Are you in for $10?" A.J.: "Put me down for $20." Another factor against Midnight Lute: The horse is named after recently retired Arizona basketball coach Lute Olson. That clinched it: A horse named after someone who decided at the last minute that he wanted to quit sounded like the perfect Official Deadspin Horse. So I was in for $20, as was the former editor of Oddjack. But we needed one more to make this a real consortium. Surely Joe Pesci, star of
Casino
, could be counted on for a foolhardy wager.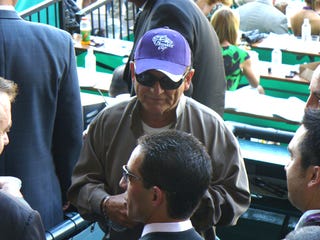 But it was not to be. Pesci had a very enormous bodyguard who went by the name of Rupert, making my attempt to get to Pesci look like that famous photo of the guy and the tank in Tienanmen Square. I
tried to ask this guy to go in with us
, being that he had the longest, most luxurious pony tail/mullet I have ever witnessed in person. But he was too fast, and I lost him somewhere in the mezzanine section. Defeated, I was making my way to the betting windows when I came upon this scene: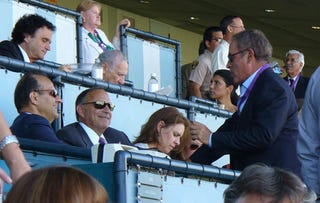 Joe Torre being bothered by Al Michaels; something you don't often see in the wild. After one of Al's long, pointless stories, I was sure that Torre was in no mood for my betting proposition. Time to move on ... but wait. Who is that man just above and to the right of Torre? The theme from
High Anxiety
ran through my head and I immediately recognized The Great One. Who better than the man who bet it all on
Robin Hood, Men In Tights
to go in on our doomed wager? I made my way up to the aisle, and approached Mel Brooks' box just as he was standing up. Me: "Mr. Brooks, I'm a great admirer of yours. OK if I get a picture?" Mel Brooks: "Are you a paparazzi?" Me: "With this camera?" (Holding up small Lumix Vario). Mel Brooks: "Sure." (He takes off his sunglasses). Me: "Thanks. I have a tip for you. Midnight Lute in the seventh." Mel Brooks: "Put me down for ten dollars." A perfectly understandable reply from a man worth millions. Especially considering that I saw him later at the "$500 minimum" betting window, not once but twice during a five-minute span. But anyway, I now had our consortium; realizing fully well that Brooks may have been kidding, but me nonetheless perfectly willing to seek him out following the race and demanding my ten-spot. I approached the betting window and slapped down a debit card. "We don't take those," said the bemused teller (not sure what they actually call these people). After a quick trip to the ATM, I returned and gently presented three twenties; possibly the smallest bet she had seen all day. "Fifty dollars to win on number 4." It certainly would make for a humorous post if the Official Deadspin Horse of the Breeders' Cup finished dead last; and if we were lucky, he might even trample Mary Kate Olson. But then a much funnier thing happened: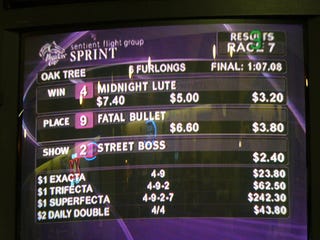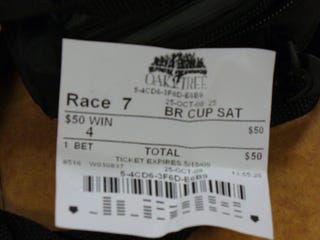 Midnight Lute started true to form, in last place. But he crept up, and before I knew it,
the freakin' horse had won
by more than a length. We're rich! I made my way to Brooks' box, but he was gone; probably demanding to security that something be done about me. So instead I went and thanked Breeders' Cup promotions guru Chip Tuttle, who had suggested Midnight Lute in the first place. Tuttle is headquartered in Boston, so never will another disparaging remark about that region come from these fingertips. I partied that night as far as one can with $187 (sorry A,J., I spent your cut on valet parking), and then turned in early. Oh, here's our hero of the hour,
jockey Garrett Gomez
, who rode Midnight Lute to victory and also evidently has a pretty OK looking wife (jockeys get all the chicks). Frankly I could never get used to remembering to bring a stepladder on dates — I have enough trouble remembering my wallet — but to each his own. Next year's Breeders' Cup is Nov. 5-6, and I am so there. This man hopes to see you there too!