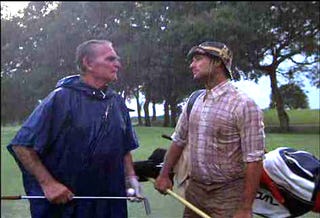 For the entire World Series, it seems like the umpires had been under the mischievous magnifying glass of the sinister "Toy Story" neighbor Sid, just burning under the criticism. Little did you realize it'd go beyond the classic blown out-safe calls and wacky strike zones. Now it's about when to roll a tarp onto a baseball field. A rainy, muddy, quicksandy game continued to be played until B.J. Upton scored the tying run. And that set a crazy idea, boss, into the ump's heads: "Um, hey, someone might get hurt out here. Also, Fieldin Culbreath seems to be shivering even more than usual.") So the game is suspended. When will it resume? Whenever Bud Selig says it will be safe to play again, and he doesn't know when that is. He's actually in a press conference right now, and no, I'm not even that foolish to attempt a live blog of it. Stay tuned, I guess, for updates.
OK HERE'S A HILARIOUS UPDATE
: SportsNet is reporting that the Rays checked out of their hotel in Philadelphia. That hotel is now booked solid. Life's funny. Maybe just because of that, I'll order room service again.
Less Hilarious But More Informative Update
: The game will resume tomorrow (Tuesday) at 8 p.m. ET. Looks like we'll be doin' this again tomorrow! Same blog time, same blog channel. (Different blog post.)