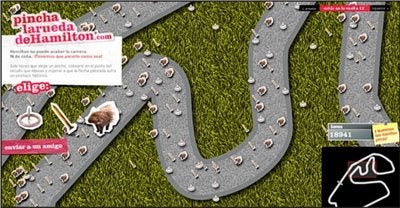 What you see here is a screen capture of a web site created by a Spanish Formula One fan (now since removed, it seems), entitled Pincha la Rueda de Hamilton. That's Spanish for Burst Hamilton's Tires. The idea is for visitors of the site to place nails, pins and even freakin' porcupines on the track in order to keep Lewis Hamilton — F1's first black driver — from finishing the Brazilian Grand Prix, which begins this weekend. Spain, I grow weary of your racist antics. Another outburst like this and you're switching spots with Portugal. Yes, Spain has a problem. First there was this . Then this . And now this thing with Hamilton ... things are so bad on the Iberian Peninsula that FIA this year launched an anti-racism campaign, after Spanish fans taunted Hamilton during testing in Spain. The web site also features a message board replete with racist taunts and threats against Hamilton. Here's the site , which seems to be down. Formula One's governing body condemned the website, according to Brazilian media, saying that it is against any act of "discrimination and prejudice."
Hamilton enters the final race of the year with a chance to win his first title and become F1's youngest champion at age 23. He has a seven-point advantage over Ferrari's Brazilian driver Felipe Massa, and can win the championship by finishing fifth or better on Sunday.
Deuce of Davenport has a better closeup
of the screen capture. This differs slightly from the video game I invented, in which you guide the 15th century Spanish armada across the Atlantic toward England, and immediately sink it with a small storm.
Motorsport: Racists Target Hamilton On Website
[NZ Herald]