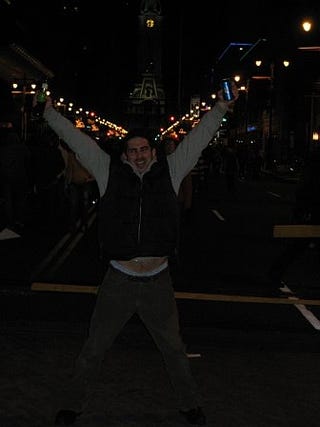 We're THIS close to having a new President, people.
Four more days! Four more days!
OK, I'm shutting this thing down, but not before we review what we've learned this week. • Erin Andrews can
tuck me in any time
. •
Tonight, we're all Phillies fans
... except for that guy in the Padres hat. Let's get him! • If this were Mayberry,
John Daly would be Otis Campbell
. •
Smear the queer
! • Despite Danyelle Sargent's valiant efforts,
Bill Walsh still deceased
•.
Mike Singletary
can kill you with his thoughts. Be safe out there tonight, citizens. And if you come across a pantsless Deadspin editor lying comatose in the street, please gently roll him to the curb. And feel free to take his wallet and shoes for your trouble. video:
Crashburn Alley