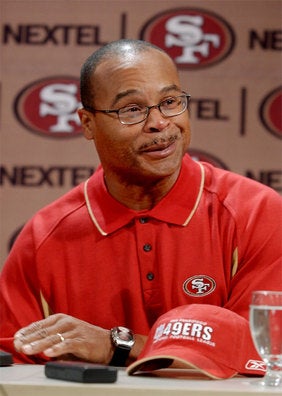 An investigation is underway in San Fransisco, and no man, woman, or child is safe from its reaches. No sir; not for as long as Mike Singletary is around. The Niners' new coach is determined to find out who told the press about his rather hilarious motivational tactics , which have brought shame and ridicule to himself and his family. Sayeth the Niner boss, who is on the hunt:
"It's unfortunate," he said. "We will find out who is leaking information out of the locker room because what happens in the locker room should be sacred and stay there."
The fact that his pants-dropping was revealed might indicate that an assistant coach or player isn't entirely behind Singletary. Or it might have been mentioned to someone on the outside in a lighthearted way, possibly to indicate how eager the coach was to get his point across. Maybe the source didn't realize how embarrassing it would be to Singletary and the franchise.
Singletary, of course, was one of the hardest-hitting players to ever step on a football field, and could clearly still lay someone out. This will not end well for the poor soul inside that Niner locker room who let this out (feel free to take bets in the comments as to who the snitch is.) And so, a good night to one and all. Here's to hoping that none of you end up being the person that Coach Singletary inevitably kills while they sleep.
Coach wants to know who bared his secret
[San Fran Chronicle]